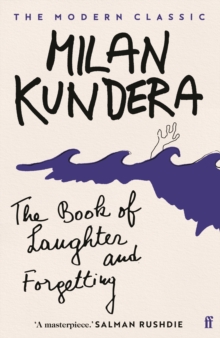 The Book of Laughter and Forgetting
Paperback
Description
'This book is a novel in the form of variations. The various parts follow each other like the various stages of a voyage leading into the interior of a theme, the interior of a thought, the interior of a single, unique situation the understanding of which recedes from my sight into the distance.
It is a book about laughter and about forgetting, about forgetting and about Prague, about Prague and about the angels.'The Book of Laughter and Forgetting is the most secret of Kundera's novels.
This new translation is the first to be fully authorized by Milan Kundera.
Information
Format: Paperback
Pages: 320 pages
Publisher: Faber & Faber
Publication Date: 20/05/1996
ISBN: 9780571174379
Free Home Delivery
on all orders
Pick up orders
from local bookshops
Reviews
Showing 1 - 4 of 4 reviews.
Review by Clurb
16/06/2015
Sex, philosophy, politics, and existential angst. This is classic Kundera. Well written, incisive and consummately readable. Didn't have me leaping around the room shouting 'Yes!' and nodding my head in appreciative agreement quite as much as some of his others though.
Review by soylentgreen23
16/06/2015
It's hard to exactly pinpoint the reason why I fell in love with this book so dramatically. Perhaps it has to do with Kundera's art of examining the everyday, and making it poetic and philosophical, so that one can learn from it. Perhaps it's Kundera's way of putting the Soviet invasion into his homeland into perspective. Perhaps it's that every single word was full of a maudlin joy, a sad happiness, that I've just not found anywhere else.
Review by marek2009
16/06/2015
A brilliant depiction of intellectual life under communism. Philiosphically profound & very moving. The more allegorical sections were a slight disappointment though.
Review by Ziggaroth
16/06/2015
Very much like his more famous Unbearable Lightness of Being, only more political, and much better. I don't think Kundera's brilliant, but he's got a real ability to make his reader think; I have certainly found myself more thoughtful reading these two novels than during almost any others I can remember. This one's harder to figure out than Lightness, but worth the effort I think.