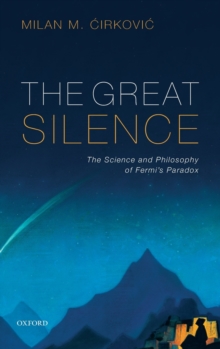 The Great Silence : Science and Philosophy of Fermi's Paradox
Hardback
Description
The Great Silence explores the multifaceted problem named after the great Italian physicist Enrico Fermi and his legendary 1950 lunchtime question "Where is everybody?" In many respects, Fermi's paradox is the richest and the most challenging problem for the entire field of astrobiology and the Search for ExtraTerrestrial Intelligence (SETI) studies.
This book shows how Fermi's paradox is intricately connected with many fields of learning, technology, arts, and even everyday life.
It aims to establish the strongest possible version of the problem, to dispel many related confusions, obfuscations, and prejudices, as well as to offer a novel point of entry to the many solutions proposed in existing literature.
Cirkovic argues that any evolutionary worldview cannot avoid resolving the Great Silence problem in one guise oranother.
Information
Format: Hardback
Pages: 432 pages
Publisher: Oxford University Press
Publication Date: 26/04/2018
ISBN: 9780199646302