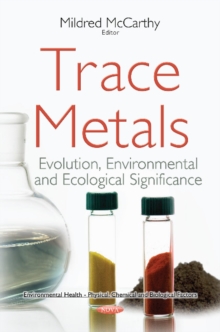 Trace Metals : Evolution, Environmental & Ecological Significance
Paperback / softback
Description
Many types of urban soils, including tree pit soil, contain elevated concentrations of trace metals as compared to agricultural and natural soils.
Chapter One describes how trace metals from vehicular emissions and the degradation of urban infrastructure are carried by runoff into the soil of green infrastructure such as tree pits and grassed boulevards.
Chapter Two compiled As concentration data from water wells, sediments, and soils in Araihazar that were collected from the public sources and government agencies.
Chapter Three focuses on the investigation of the distribution of Fe plaque in the root epidermis of selected wetland plant species (Phragmites australis, Typha latifolia and Spartina alterniflora) using synchrotron X-ray microfluoresces, X-ray absorption near edge structure and transmission X-ray microscope techniques with (sub)micro-scale resolution.
Chapter Four investigates the possibility of temporal and spatial variations of potential ecological risk assessments (PERI) of Cd, Cu, Hg, Pb and Zn in the surface sediments based on four sampling cruises in the Straits of Malacca.
Characterization of metals in sediments from the New York/New Jersey Harbor is necessary as part of the basic information needed in work related to dredging and environmental effects and restoration efforts in the region as reported in Chapter Five.
Chapter Six discusses the arsenic concentrations in the groundwater of the lowlands of Nepal (the so called Terai).
Information
Format: Paperback / softback
Pages: 140 pages
Publisher: Nova Science Publishers Inc
Publication Date: 01/07/2017
Category: Metals technology / metallurgy
ISBN: 9781536124033
Free Home Delivery
on all orders
Pick up orders
from local bookshops