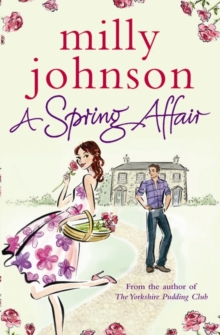 A Spring Affair
Paperback
Description
THE TOP FIVE SUNDAY TIMES BESTSELLING AUTHOR!'Clear your house and clear your mind.
Don't let life's clutter dictate to you. Throw it away and take back the control!' When Lou Winter picks up a dog-eared magazine in the dentist's waiting room and spots an article about clearing clutter, she little realises how it will change her life.
What begins as an earnest spring clean soon spirals out of control.Lou's loved ones grow disgruntled.
Why is clearing out cupboards suddenly more important than making his breakfast, her husband Phil wonders?
The truth is, the more rubbish Lou lets go of, the more light and air can get to those painful, closed-up places at the centre of her heart.
Even lovely Tom Broom, the man who delivers Lou's skips, starts to grow concerned about his sweetest customer.
But Lou is a woman on a mission, and not even she knows where it will end . . .For fans of Katie Fforde and Cathy Bramley, A Spring Affair will warm your heart.
What people are saying about Milly Johnson: `An irresistibly feel-good read'Jane Costello `There should be a public health warning with this book: only read if you can afford to lose a day.
I emerged from its pages in a mood of sublime contentment' Debby Holt `Another gem from Milly Johnson' The Sun `An irresistibly warm and romantic read' S Magazine `A warm, funny, and touching tale about friendship, relationships, and everyday lives.
I loved it' Matt Dunn
Information
Format: Paperback
Pages: 496 pages
Publisher: Simon & Schuster Ltd
Publication Date: 06/04/2009
ISBN: 9781847392824
Free Home Delivery
on all orders
Pick up orders
from local bookshops
Reviews
Showing 1 - 2 of 2 reviews.
Review by JessicaLouise23
16/06/2015
It seems as if almost by fate that on one spring day Lou Winters picks up an old dog eared magazine on how clearing clutter from your life can really boost your mood. Little does Lou know at the time how much clearing out her clutter is going to change not only her mood but her life. What starts off sorting out a few draws here and there soon turns into a full house sort out. So much so that Lou has to start hiring skips from the gorgeous half Italian Tom Broom. Lou soon finds herself addicted to clearing out her nest and the more Lou clears out the more she realises what things are important in her life and what things have to go. Should she keep her successful wealthy husband whose affair with another woman Lou is still trying to heal from? Should she throw away her self obsessed 'best friend'? And maybe in the light and airy places that they leave behind fill them with the confident Lou she used to be before becoming the ultimate surrendered wife, her best friend Deb whom she's lost contact with and maybe just maybe Tom Broom and his adorable dog Clooney…I really liked this book. It was a nice light read. Although it had some romance this book mainly covers the subject of self esteem and bullying whether it's in the work place or from your loved ones. It's a real feel good read that has you cheering the lovable Lou on as you watch her character grow. Definitely recommended if you're looking for a girl power kind of read. I've since brought another one of Milly Johnson's novels A Summer Fling which sounds just as good as this one. It has to be said that the covers for both of these books are really pretty and look great on my bookshelf which is a great bonus! 4 stars.
Review by dieseltaylor
16/06/2015
Excellent. Good characterisation. Funny.
Also in the THE FOUR SEASONS series | View all