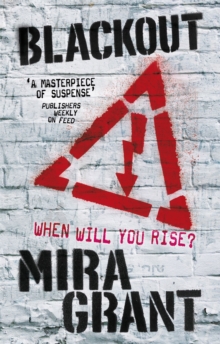 Description
The year is 2041, and Shaun Mason is having a bad day.
Everyone he knows is dead or in hiding. The world is doing its best to end itself for the second time.
The Centre for Disease Control is out to get him. With too much left to do and not much time left to do it in, he must face mad scientists, zombie bears and rogue government agencies before the conspiracy that killed Georgia manages to kill the only thing he has left of her - the truth. And if there's one thing he knows is true in this post-zombie, post-resurrection America, it's this: Things can always get worse.
Information
Format: Paperback
Pages: 608 pages
Publisher: Little, Brown Book Group
Publication Date: 29/05/2012
Category: Science fiction
ISBN: 9781841499000
Free Home Delivery
on all orders
Pick up orders
from local bookshops
Reviews
Showing 1 - 5 of 18 reviews.
Previous | Next
Review by srearley
16/06/2015
Wow. Did not want this one to end. Will have to go back and reread more slowly, when I'm not trying to gulp down the ending of a trilogy -- and it was definitely worth the wait.
Review by reading_fox
16/06/2015
Superb. Amazing end to an amazing series. Really picked up the plot again after the slightyl transitory middle book. Just excellant. Read them all and rise up while you can.The opening page is just one of the best WTF moments I've read in the long time. I couldn't believe she was doing this. And in order to preserve that for everyone else I'm not going to write about the plot as much as I normally do; safe to say it does wrap up the series and brings it all to a reasonable end. You can't spoil many things in a book, but that first page is special. Fortunertly it's not the only such moment either. It takes quite a special bit of writing to be able to sustain that, hold the readsers disbelief and bring them through to your side. Blackout does that very well indeed. Of course it's not perfect. There are a couple of detailed errors that grate, and a few less belivbable plot points, but it's basically niggling. My biggest gripe was the use of jumpers to circumvent an electric fence. This will work, enabling you to cut the fence without triggering the alarm - what it doesn't do is allow you to touch the fence! One of those things that could have been got right equally well, but wasn't. Then there's the whole conspiracy thing - which doesn't really work for me, especially the motivation involved, and the required number of people, but that's more a class failing than a problem with this specific book. Finally of course the whole series suffers from the major plot failing of how they keep power and fancy electronics running throughout all the problems they've had. Infrastructure is hard! But if you forgive these fairly minor points it's great.The ebb and flow of the pacing is superb, the character banter, motiviation, resources, emotion and just sheer belivablility is wonderful. These really are people you could run away with. The action is tense, without being overly detailed or needlessly graphic. I wasn't that keen on the character swapping between chapters, but they are clearly labelled in the headings which makes it a lot easier. It's really been a great series, and there are now a few short stories to flesh it out here and there. But I can't see it being continued in a major fashion. Off to go and look up the rest of Mira's (Seanan McGuire) work.
Review by JeremyPreacher
16/06/2015
Again with the spoilers - I'm going to be vague but if you intend to read this trilogy, skip the reviews or you will be confused.<br/><br/>Blackout was also great - it brought the major arcs to a satisfying close. I was not totally a fan of the whole clone subplot - I think it took something away from Feed, really - but it didn't bug me enough to make me not like the book. I also wasn't as bothered as I gather many people were by the reveal about Georgia and Shaun's relationship. There were enough subtle, tasteful hints throughout the first two books that it was pretty much not a surprise at this point, and while I think it's a little baffling, I was delighted not to have to deal with a romance subplot at all. <br/><br/>The series was great as a whole, although I think Feed by itself was the finest accomplishment. Wouldn't hesitate to recommend it.
Review by erincathryn
16/06/2015
This was more like a 4.5 for me. But I rounded up because the series as a whole has given me great enjoyment.<br/><br/>I was a little disappointed in the ending, but also disappointed that it is over... SO CONFUSED!
Review by MlleEhreen
16/06/2015
Here's the problem with BLACKOUT: the readers needed Georgia back. The plot didn't. <br/><br/>This wouldn't be such a huge problem if, say, Shaun had found some way to bring Georgia back. He was motivated to do so, should the means have presented themselves. But it <i>wasn't</i> Shaun who brought Georgia back - it was the villain of the series, insofar as a government agency can function as a villain.<br/><br/>Now, I actually follow the logic that led the CDC to their state of villainy pretty well. They can't afford a partial cure of Kellis-Amberlee. They see the inevitable result - "Maybe this person can recover from amplification, maybe I shouldn't shoot them in the head, oops, now I'm a zombie too!" - and it is awful. I can see a "cold calculation" (to use Mira Grant's phrase) there, where the CDC believes their way will save more lives in the long run. And it makes sense that once an organization has chosen a direction that requires a lot of lying and secrecy, it will foster a pretty toxic environment where the wrong sort of people will thrive. <br/><br/>So, in a general sense, I get it. And in a general sense, the plot here hangs together pretty well: the After the End Times crew has discovered that the CDC is at the center of a massive, evil conspiracy. They want to end the conspiracy by making it public, making it news. The CDC is strongly motivated to prevent that from happening. The After the End Times crew makes progress. The CDC keeps trying to kill them. Eventually, we have a winner and a loser. <br/><br/>And I thought the first half of the book was pretty awesome. We see Georgia again! She's narrating chapters! Man, it was great to have her back. She is one kick-ass reporter. And all the chapters recounting her captivity at the CDC facility are beyond chilling. The creepy doctor in charge of her, Dr. Thomas, made me want to vomit. Georgia's struggle with her own identity - she's not actually Georgia Mason; just a very close copy - was perfect. <br/><br/>Meanwhile the After the End Times crew hits the road, with Shaun on his way to Florida to save Alaric's little sister from the mosquito-ridden hazard zone the state has become. They run into trouble on the way, and eventually - thanks to an extremely bizarre coincidence that needed a <i>lot</i> more explaining than we actually got - meet up with Georgia. <br/><br/>I loved Shaun's reunion with Georgia. I loved seeing the rest of the crew react to her reappearance. So great. The coolest thing about it? The way that Shaun's behavior in this book cleared up the issues I'd had with DEADLINE. I'd been really uncomfortable with the idea that Shaun communicating with Georgia by magic, and I couldn't figure out how else he could be having such lucid conversations with her. <br/><br/>In BLACKOUT, Mira Grant explains it in a way that I found <i>really</i> satisfying. I liked the explanation - Shaun is just nuts but maybe, just maybe, there was a little possibility to see something more and I was willing to swallow that - but I loved the psychological justification, the way that Georgia's presence in Shaun's mind was revealed as a side of his character that he'd suppressed, a consequence of his co-dependency, maybe even an aid to character growth. A disused part of himself that he'd let wither, because he gave it a name: Georgia. <br/><br/>Unfortunately, after the team is all back together again, the plot completely falls apart. It is a mess. I'm spoiler-tagging this whole review but I'm about to discuss the grand denouement, so this is a cue to stop reading if you haven't read the book yet.<br/><br/>The whole scene with the Monkey made no sense. Not enough explanation for the double crossing (a problem that only gets worse when the CDC guy tries to explain what their game had been). Not enough explanation for the self-sacrificing. The crazy, animal-named characters felt like an little pocket of October Daye had crept into the Newsflesh series, and I'd rather pretend that whole episode just wasn't in the book.<br/><br/>But it's not until they go to Washington that things really fall apart. Our protagonists are ferried to the White House for a villain monologue? What? All of those hints about Rick doing some horrible, unforgivable evil thing and...what is it, exactly? Is he so guilt-ridden about bringing Georgia back? How did he accomplish that? It seemed like the CDC was completely running the show there, so I'm not sure how Rick had enough clout to have Georgia revived. <br/><br/>Are we supposed to believe that Rick suggested the idea, and the CDC only agreed because they planned to run with the 44% version of Georgia? Did Rick know about <i>that</i> too? And then the CDC agreed to have the 97% Georgia introduced to the President anyhow? Because...why? Maybe the CDC figured they'd group them all up and kill them - that was obviously the backup plan - but considering the effort they expended to keep Ryman &amp; Rick biddable, you'd think they'd know better than to introduce new allies, let alone deliver Evil Villain monologues to reporters without a more thorough check for recording devices. <br/><br/>That whole scene was so full of holes and problems I'd go on for pages trying to list them all. So I'll just hop straight to the biggest problem, the one that really decreased my enjoyment of the book: Why did Rick think he needed Georgia at all? The entire scene at the White House, the extraction of the family, the recording of the villain monologue, all of it, could have happened without her. Hell, it could have happened without Shaun or any of the other After the End Times people (though that would require that either the Prez or Vice-Prez come up with a half-dozen solid friends with arms training; seems doable, right?).<br/><br/>I was also pretty disappointed that the ending was so rushed. I wanted to know more about how the country - and the unfettered leaders - tried to deal with the mess they found themselves in. I want to know what <i>their</i> "cold calculations" were. I had a hard time believing that Shaun &amp; Georgia decided that, in their early twenties, it was time to ride off into the sunset and abandon their careers. <br/><br/>On the one hand, I loved BLACKOUT. I love the Newsflesh world, I love the smart, almost brutally no-nonsense writing, I loved having George back, I loved seeing Shaun and George together again - one of my favorite moments in the whole book was when they did their "one, two..." blood-testing routine together for the first time after seeing one another again. That was really moving. I'm so glad they got a happy ending. <br/><br/>On the other hand, the second half of this book was a mess &amp; if it weren't for the first two books in the series, how invested &amp; emotionally wrung out I was by them, I doubt I'd think very much of this one at all.
Also in the Newsflesh Series series | View all