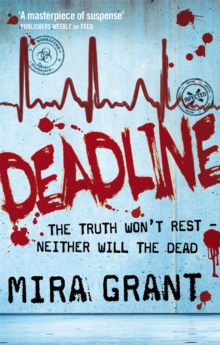 Description
Shaun Mason is a man without a mission. Not even running the news organisation he built with his sister has the same urgency as it used to.
Playing with dead things just doesn't seem as fun when you've lost as much as he has.
But when a researcher from the Centre for Disease Control fakes her own death and appears on his doorstep with a ravenous pack of zombies in tow, Shaun's relieved to find a new purpose in life. Because this researcher comes bearing news: the monster who attacked them may be destroyed, but the conspiracy is far from dead. Now, Shaun hits the road to find what truth can be found at the end of a shotgun.
Information
Format: Paperback
Pages: 560 pages
Publisher: Little, Brown Book Group
Publication Date: 01/06/2011
Category: Science fiction
ISBN: 9781841498997
Free Home Delivery
on all orders
Pick up orders
from local bookshops
Reviews
Showing 1 - 4 of 4 reviews.
Review by jbrubacher
16/06/2015
(Contains spoilers for the first book--beware! And honestly, you have to read the first book first.)His sister might be dead, but Shaun Mason still runs the most popular news blogging site in the post-zombie-apocalyptic world. So when a CDC science goes rogue with her knowledge of the virus Kellis-Amberlee, she contacts Shaun to tell all. Thus starts another conspiracy investigation that makes blogging the most dangerous pass-time still going. By the end of this book everything has changed, including the rules Shaun & his staff always held as gospel to let them survive in such a world.It's rare that I enjoy the second in a series as much as the first. They usually lose half a star, at least. This time I'm just as impressed. It's a combination of the story's breakneck pace, the way it all feels real and possible, and the hints of more conspiracy right down the road. Seen this time from Shaun's perspective rather than Georgia's, the world is a bit new again, and that really helps keep it fresh. He's a little bit of a psycho for me (he wants to punch nearly everyone in the face) but even that is tempered by the idea, "Who wouldn't be that psycho at this point?" And if the world is populated by people who all seem to be either Shaun's age or his parents' age, that pretty much works with the blogger mentality.Great stuff. I'm just annoyed I read it so quickly after release, and now have to wait a year for the third book.
Review by iftyzaidi
16/06/2015
A major drop in quality from the first book in the series, Feed. It suffers from a virulent form of middle episode disease. Very little happens. The actions (or lack thereof) of the villains meander into the unbelievably dumb. Despite a great deal of heightened rhetoric on the annoying blog extracts that precede every chapter, the protagonists sit around hashing out where the plot stands for much of the book, then putter off to some new encounter which drips some action into the story, then return home to hash out what's happening all over again. The only real significant plot development happens in the last couple of pages and since I'm certain it will be talked about again and again in the third and final episode of the trilogy, I would seriously recommend just skipping this going to the last book.
Review by reading_fox
16/06/2015
Close but not quite as good as the 1st in the series, very much a transitional mid-series book. You definetly should read <i>FEED</i> first - and it is awesome so you should read it anyway.Shaun remains the only hero in this book having lost all his team in the previous one. However we still get Georgia's take on things because Shaun is no longer entirely sane, and hear's George's voice in his head - when he gets reall stressed he even visualises her. He gets stressed a few times! There was sufficient evidence at the end of <i>Feed</i> that the remaining bloggers suspect the CDC of covering up some form of information about the zombie virus. Of course it's always a difficult question - if the truth will harm people does anyone have the right to hide it? BUt it doesn't get answered that thorughly in this book.Instead we have a fairly normal conspircacy story with a few zombies thorwn in instead of on-the-ball security guards. The first time was just about at the cusp of belivability, the 2nd was frankly shoddy. No organisation should be making security errors at the level that allows a couple of kids to just walk in. Twice. Somehow the tension wasn't quite there either nor was that sense of wonder at the way the world turned out. It was all close, but just not quite as compelling as in the f1st book. In some respects Shaun acknowledges this because his sens of fun as an Irwin has left him, and he now heads the Newsies and only ventures intot he field when necessary. The banter and personalities between the team remain impressive.Not as good, but still worth reading. As the first chapter of the third book is tagged on the end, I can definetrly say I'll be reading it, but my WTF meter will be running on overload.
Review by wyvernfriend
16/06/2015
While there were parts that lagged a bit this was a bit of a roller-coaster ride while Shaun deals with the fact that his sister is dead, tries to work out why a researcher for the Centre for Disease Control faked her death and seems to be a zombie magnet. The conspiracy is deep and everybody seems to have a stake in the mess. I made the mistake of picking this up to read a few chapters having got half-way through yesterday and couldn't put it down until it was done, leaving me light on sleep today, it was worth it, the story drew me in and kept me guessing and I really want to read the next book.I felt so sorry for Shaun, he's talking to his dead sister and she's occasionally appearing to him, his temper is also at hair-trigger levels and he's making a mess of his relationships with a lot of people. His pursuit of news is tinged by his feelings of loss and he keeps losing more people making it hard for him to really connect with people and he's also feeling the guilt of how what he's investigating seems to bring with it death for others.I liked it, I want to know how this ends.
Also in the Newsflesh Series series | View all