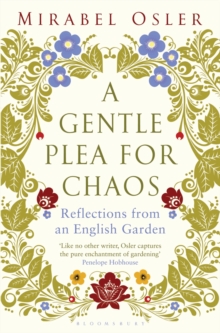 A Gentle Plea for Chaos
Paperback
Description
In this book the author describes the way her garden evolved and how, without meaning to do so, she let it take over her life.
She suggests moving away from planning, regimentation and gardening with the mentality of a stamp-collector.
Frequently funny and always stimulating, she writes of the alchemy of gardens, of the 19th-century plant-collectors and plant illustrators and of the gardening philosophers, all fertilizing great thoughts along with their hollyhocks.
She won the 1988 Sinclair Consumer Press Garden Writer of the Year Award.
Information
Format: Paperback
Pages: 192 pages
Publisher: Bloomsbury Publishing PLC
Publication Date: 16/05/2011
Category: Gardening
ISBN: 9781408817896
Free Home Delivery
on all orders
Pick up orders
from local bookshops
Reviews
Showing 1 - 1 of 1 reviews.
Review by bezoar44
16/06/2015
I have read Michael Pollan's comment that when this book was first published in 1989, it blew fresh air into the stuffy precincts of English garden writing. (The re-issuance was apparently timed to coincide with the 2011 publication of Osler's memoirs, The Rain Tree, which I hope to read). For an American gardener reading two decades later, much of that original context simply doesn't translate, but the book does offer points of interest. It's probably helpful to understand A Gentle Plea as a set of casual meditations, each a few pages long, without attaching any significance to the chapters into which they are grouped. Passages that particularly struck me included: * a speculation on what American gardens might be like (93- 97; Olser and her husband had lived and traveled all over the world, but never in America).* a short history of botanical illustration (112-122).* a description of three of Olser's favorite gardens(162 - 174).Overall, to the extent that the book has an overarching message - beyond sharing the deep pleasure Olser and her husband took in planting and tending trees, shrubs, and roses together - it is a recommendation to relax and let the garden grow, even become a bit unruly. The book ends with blunt sorrow: a short sentence notes the death of Osler's husband Michael in the spring of 1989, between the time she finished writing the work and its publication. For me at least, that final sentence turns the book's insouciance on its head, rendering it impossible to read with the spirit in which it was written, and making her frequent affectionate references to her husband throughout the work poignant rather than blithe.