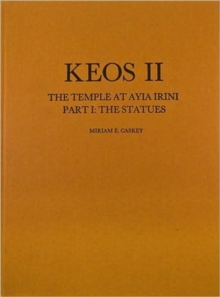 The Temple of Ayia Irini : The Statues
Hardback
Part of the KEOS series
Description
This volume presents the remarkable terracotta statues excavated at the site of Ayia Irini in the 1960s.
Beginning with the first trench and continuing through three more campaigns, these figures were recovered in fragments from almost all rooms of the temple; they now represent 40 statues by conservative estimate; all women, they wear short-sleeved jackets, heavy girdles, and full skirts.
Some are as large as life size, and most wear necklaces or garlands.
The date (Late Minoan IB/Late Helladic II, with a single Mycenaean exception) is earlier than that of any known, other than a few Cretan fragments of large scale but different construction.
The author describes the discovery and construction of the statues and then presents a catalogue of the fragments in detail and fully illustrated.
Five stratigraphic sections accompany the tables of findspots.
The fragments are divided into nine groups according to form and construction, followed by five groups of unassigned fragments (heads, torsos, skirts, arms, various).
The life-size Mycenaean statue, constructed in a more familiar coil technique used for pithoi, is catalogued separately.
At the end is a group of terracotta feet (Late Minoan IA or earlier), found outside the temple and originally complete in themselves.
Information
Format: Hardback
Pages: 160 pages, 11 figs, 88 pls, plan, colour frontispiece
Publisher: American School of Classical Studies at Athens
Publication Date: 21/11/1971
Category: Classical Greek & Roman archaeology
ISBN: 9780876617021