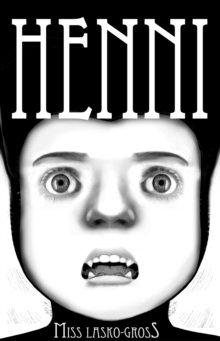 Henni
Paperback / softback
Description
"The art's lush, rich tones blend into luminousblues and purples, and characters are charmingly expressive, echoing classicchildren's book illustrations.
Lasko-Gross has crafted a coming-of-age storythat's weird, cool, and touching." -- Publisher's Weekly (StarredReview)"Powerful....
The art style isfantastical and somewhat grotesque, an homage, it seems, to Maurice Sendak. Though the story is far more adult than "Where the Wild Things Are.""Henni" tells the tale of a young girl, a humanoid cat creature bythe title name, as she is oppressed repeatedly by various kinds of religiousphilistines, all of whom happen to be men.
It's a story that champions feminismand advocates a supreme distaste for religious extremism of all kinds."--SALONIn a fantastical world where old traditions and religiondominate every aspect of life, lives a girl named Henni.
Unlike most in hervillage, Henni questions and wonders what the world is like as she comes of age. Striking out on her own, Henni goes out in search of truth, adventure, and more!Written and drawn my Miss Lasko Gross (A Mess of Everything andEscape From Special), Henni is a commentary on, religion, comingof age, and beingyourself. "Oneof the most challenging cartoonists working today.... [HENNI is a] significantnew work"--BLEEDING COOL"Aclassic, clever, smart, timeless adventure story that builds an interesting,scary world with layers of storytelling that will make it a rewarding readingexperience for almost anyone.
It's like Maurice Sendak making A Handmaid'sTale."--The VILLAGE VOICE's TOPLESS ROBOT"Henni is setin a world run by a close-minded religious patriarchy and the titular young girlruns away when she realizes she doesn't want to live the life they've set forher.
As she goes off discovering the world, she is bravely indifferent toquestioning everything and everyone she comes across, making this kind of afairy tale for teens... with a strong message about not being afraid to speak upand challenge authority."--MENTALFLOSS"Henni isn't so much a coming of agetale as it is a refutation of our formative years-the time when adults, in theirsureness of purpose, attempt to force structure upon those they can overpower.
Astory about art, feminism, and the paradigm-halting power of imagination in theface of repressive belief-systems, Lasko-Gross's vision teems with the sortof beauty Maurice Sendak might have lent to a children's book written by GeorgeOrwell, Virginia Woolf, or Sylvia Plath."--Samuel Sattin, LEAGUE OFSOMEBODIES
Information
Format: Paperback / softback
Pages: 168 pages
Publisher: Z2 comics
Publication Date: 06/01/2015
Category: Fantasy
ISBN: 9781940878027
Free Home Delivery
on all orders
Pick up orders
from local bookshops