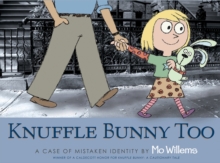 Knuffle Bunny Too : A Case of Mistaken Identity
Paperback
Description
The hilarious second instalment in the Knuffle Bunny trilogy from bestselling, award-winning author Mo Willems.In the hilarious second instalment in the Knuffle Bunny trilogy from bestselling, award-winning author Mo Willems, Trixie can't wait to show off her one-of-a-kind Knuffle Bunny at school.
But a dreadful surprise awaits ... Trixie's bunny is not so one-of-a-kind after all! And matters get worse that night when Trixie realizes that she has brought home the WRONG BUNNY!
A phone call later, Dad and Trixie are off on a desperate late-night mission to reclaim the real Knuffle Bunny...
Information
Format: Paperback
Pages: 48 pages
Publisher: Walker Books Ltd
Publication Date: 01/06/2008
Category: Picture storybooks
ISBN: 9781406313826
Free Home Delivery
on all orders
Pick up orders
from local bookshops
Reviews
Showing 1 - 5 of 5 reviews.
Review by dknapp
16/06/2015
This book is about a little girl who is taking her stuffed bunny to school to show her friends. She thinks her bunny is one of a kind but when she shows up, another little gir has the exact same bunny. The two girls fight about the bunnys and the teacher takes them both away. She gives them back at the end of the day but when the little girls go to sleep at night they realize that it isn't their bunnies. Their fathers race them across town to switch rabbits at 2:30 in the morning. The next day at school, the girls are best friends.This is a cute book with some unique pictures. The pictures are a conbination of realistic and cartoon. Being the mother of a nearly 6 month old, I found this book somewhat humerous and I can definately see this happening in the not so far off future.This book could be used in the classroom to teach friendship and sharing. It might also be fun to have the children bring their favorite stuffed animal or toy for show and tell along with this book.
Review by katitefft
16/06/2015
This sequel to Mo Willems' popular book "Knuffle Bunny: A Cautionary Tale" is a wonderful realistic fiction story that tells the story of one little girl, Trixie's, experience in realizing that her stuffed animal is not one-of-a-kind. Much drama then ensues when her bunny gets mixed up with another girl's bunny at school. This story will have adults and children laughing and smiling. It is also one that children will be able to relate too, because like Trixie, many children have favored possessions that they would be lost without. In this story, the heroic father steps in and saves Trixie's day by getting her Knuffle Bunny returned to her. For many children, this scenario will hopefully give them hope that their parent/guardian would do the very same thing. In addition, this book sheds a positive light on fatherhood and engages dads in literacy with their children.
Review by christieb
16/06/2015
Great read aloud book. Would be a good example for middle and high school students, of art technique in placing drawings atop of real pictures.
Review by laurakurtz
16/06/2015
This is a fun book that I love as a pre-k teacher, as so much of the action happens in a pre-k room, and Willems is right on in his depiction of the lives and dramas of pre-k students! In this book, Trixie brings her special bunny to school only to see that another girl also has the same bunny. They fight all day over it until the teacher takes them both away. They are returned later, but in the middle of the night trixe realized she took home the wrong bunny. They do a late night rendezvous, and the girls become best friends.
Review by mdonley
16/06/2015
Trixie and Knuffle Bunny are back!!! Trixie is excited to show her classmates Knuffle Bunny, but Trixie can't believe what she sees when she arrives at school