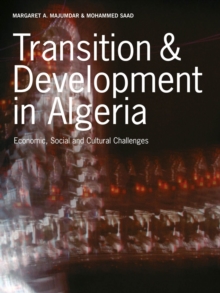 Transition & Development in Algeria : Economic, Social and Cultural Challenges
Paperback / softback
Description
This work addresses the impact of new technology on our ideas about art, science, philosophy and what it is to be human.
It argues that many of the beliefs that emerged through the period of Industrialization are no longer useful or relevant and we must develop new ways of thinking about, and understanding, the complexity of contemporary existence.
Building on the findings non-linear mathematics, advanced physics, artificial intelligence and contemporary philosophy, the text offers a re-definition of human being, the way we think and the way we perceive cultural objects.
It outlines some of the dramatic developments in high technology that point to a blurring of the distinctions between the natural and the artificial, including genetics, VR, nanotechnology, robotics, artificial life and intelligence.
Information
Format: Paperback / softback
Pages: 200 pages
Publisher: Intellect Books
Publication Date: 05/03/2013
Category: Regional studies
ISBN: 9781841500744