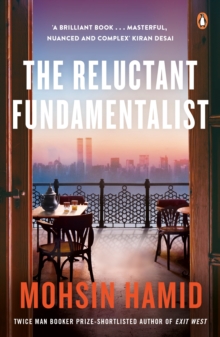 The Reluctant Fundamentalist
Paperback
Description
The Reluctant Fundamentalist is Mohsin Hamid's thrillingly provocative international bestsellerShortlisted for the Man Booker prize in 2007Now a major film directed by Mira Nair and starring Kate Hudson and Kiefer Sutherland'Excuse me, sir, but may I be of assistance?
Ah, I see I have alarmed you. Do not be frightened by my beard. I am a lover of America . . . 'So speaks the mysterious stranger at a Lahore cafe as dusk settles.
Invited to join him for tea, you learn his name and what led this speaker of immaculate English to seek you out.
For he is more worldy than you might expect; better travelled and better educated.
He knows the West better than you do. And as he tells you his story, of how he embraced the Western dream -- and a Western woman -- and how both betrayed him, so the night darkens.
Then the true reason for your meeting becomes abundantly clear . . .Challenging, mysterious and thrillingly tense, Mohsin Hamid's masterly The Reluctant Fundamentalist is a vital read teeming with questions and ideas about some of the most pressing issues of today's globalised, fractured world.'Masterful . . . A multi-layered and thoroughly gripping book, which works as a poignant love story, a powerful dissection of how US imperialist machinations have turned so many people against the world's superpower - and as a thriller that subtly ratchets up the nerve-jangling tension towards an explosive ending' Metro'Beautifully written . . . more exciting than any thriller I've read for a long time' Philip Pullman'A brilliant book' Kiran Desai'Admirably spare and amazingly exciting' Rachel Cooke, New StatesmanMohsin Hamid is the author of The Reluctant Fundamentalist, Moth Smoke and How to Get Filthy Rich in Rising Asia.
His fiction has been translated into over 30 languages, received numerous awards, and been shortlisted for the Man Booker Prize. He has contributed essays and short stories to publications such as the Guardian, The New York Times, Financial Times, Granta, and Paris Review. Born and mostly raised in Lahore, he spent part of his childhood in California, studied at Princeton University and Harvard Law School, and has since lived between Lahore, London, and New York.
Information
Format: Paperback
Pages: 224 pages
Publisher: Penguin Books Ltd
Publication Date: 01/04/2008
ISBN: 9780141029542
Other Formats
Paperback from £6.65
EPUB from £1.99
Free Home Delivery
on all orders
Pick up orders
from local bookshops
Reviews
Showing 1 - 5 of 14 reviews.
Previous | Next
Review by Kanikoski
16/06/2015
A rarity in my own levels of classification, I would go so far as to call this a 'must read' novel. Gripping from start to finish, it delivers a heady blend of thriller-like observational detail, a taut and fascinating narrative, and a superbly drawn ill-fated love interest.In terms of form alone, this is worth the journey. The narrator's position as one party in a two-way conversation is bold enough, but when the unheard party is equated to the reader of the novel, the result fizzes with energy. From the title to the slightest of plot hints woven into the text, there is a biting play with mental categories that George Lakoff ('Women, Fire, and Dangerous Things') would be proud of.Layered on top, of course, is the simultaneous unfolding of two stories, past and present. These are crisp, fresh, and detailed, but still manage to maintain the conversational tone identified with the narrator's character.There is no plot spoiler here. Go read!
Review by dylanwolf
16/06/2015
I love that whoosh of freshness that comes from moving from one book to the next. Books are so different to each other, the experience is often like stepping into a cold shower. This modern novel could hardly be more different from Henry James - stripped down, accessible text. So, does that mean that complexity is lost too. Well, yes, it does a little. Henry James is a more accomplished and vastly more ambitious writer. That is not to say that Mohsin Hamid is a facile writer. He does not want to layer this book down complexity. The text should read as clear as it can.The book consists of extended monologue - one side of a conversation that takes place over a whole evening in a cafe in Lahore. An American tourist has been buttonholed by an English speaking local with a story to tell. In being critical of American foreign policy the book is likely to be more controversial in the States than here in Britain and critics will undoubtedly focus on the protagonists smile when he hears of the attack on the World Trade Centre. But it wold be a mistake to reject the book as merely an anti-American polemic.
Review by riverwillow
16/06/2015
After an apparently chance encounter in a Lahore marketplace with an American visitor, Changez tells his life story. Changez is an engaging storyteller who brings his story to life through the characters he encountered in America. This is thought provoking stuff.
Review by shawjonathan
16/06/2015
I read most of this in sight of Japan's Inland Sea -- calm, misty, a living explanation for the aesthetics of zen gardens. Perhaps that affected the way I heard the narrator's voice: unruffled, fatalistic, courteous. The book is a monologue: bearded Pakistani man engages an American in conversation in a marketplace in Lahore. As night falls, he persuades the other man to eat with him as he tells him the story of his life, or rather of his relationship with America. The book probably grows from Mohsin Hamid's years at Princeton. Its rage at the terrible realities of Pakistani politics is delivered with a mellifluous inevitability that made me think of a Handel concerto. The actual relationship between the narrator and his guest, as hinted at throughout and revealed in the final pages, is neither surprising nor plausible, but that hardly seems to matter.
Review by klarusu
16/06/2015
'The Reluctant Fundamentalist' is a cleverly constructed novel, written as one part of a dialogue between two men in a Pakistan marketplace. This intimate and innovative style quickly draws the reader into a dual storyline: the history of the narrator's life, discussed as a past narrative and the story unfolding in the narrator's present, which the reader learns about through commentary and innuendo from a single perspective. There is a constant question as to the identity of the narrator and the other participant in the conversation. It is an effective stylistic device. The reader becomes an integral part of the fiction as the narrator addresses a nameless, faceless Western individual. It places the reader themselves in that position, a clever narrative device to bring the story to life in the mind of the reader.Hamid is a master of characterisation in an unconventional format. The reader becomes more and more curious regarding the audience of the personal history being recounted, as small tidbits of information are dropped into the conversation. It is interesting how Hamid builds a degree of character for the unseen individual, fascinating how your opinion of character can be formed purely through a third party's reactions to that person. On a wider scale, it raises the question of how far our perceptions of nations or nationalities unfamiliar to us are affected by the reaction of others towards them.The dual thread of the narrative allows Hamid to give an interesting, intelligent portrayal of post 9/11 America. There is an wonderful analysis, at one point, of the traditional empire that America resembles within its own borders. He also paints a portrait of the development of fundamentalism more complex than any we are usually given - a combination of internal and external triggers, personal and political reasons, as much an echo of a man's dissatisfaction with himself and his own perspective on his heritage as a reaction to the political climate of the day. It makes the creation of a fundamentalist mindset seem frighteningly plausible, even possibly understandable. It is born of reasoned argument that it is impossible not to indentify with at some level. It serves as an antidote to the common portrayal of the fundamentalist mindset being born of low intellect and high susceptibility to influence or of purely religious fanaticism.It is a remarkably well-realised novel, with mounting suspense that brings the reader towards the conclusion with ever-increasing eagerness to discover who the individuals really are and what that narrator's true story is. The image of suicide, always hanging in the background, symbolises perhaps a nation's unacknowledged fears. As the two men converse, with a constantly changing backdrop of the local marketplace, it seems more than purely an atmospheric description of their surroundings. It is more analogous to the constantly changing world around us. The image of the changing character of the market as it empties mirroring the image of our solitude as our society lives more and more empty of faith.This was a real 'impossible to put down' book, an incredibly fast read but one that leaves you thinking and broadens your view of a contemporary issue, taking it in interesting directions. Well worth the investment of time and money.