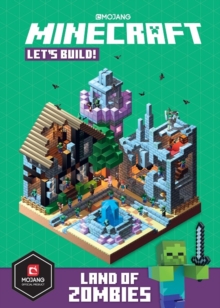 Minecraft Let's Build! Land of Zombies
Paperback / softback
Description
Have you ever wanted to build an entire land dedicated to battling zombies?
This guide will show you how it's done! Inside you'll find build ideas for everything from a zombie arena and a spooky, zombie-infested graveyard to an entire undead city and a top secret lab where zombies are created and cured.
Just follow the steps for each build, and before you know it you'll have an entire Land of Zombies.
Then, it's just a matter of teaming up with friends to take them out!Collect all of the official Minecraft books to become the best Minecrafter you can be:Minecraft Let's Build!
Theme Park Adventure: 9781405293075Minecraft Guide to Exploration: 9781405285971Minecraft Guide to Creative: 9781405285988Minecraft Guide to Redstone: 9781405286008Minecraft Guide to the Nether and the End: 9781405285995Minecraft Guide to Enchantments and Potions: 9781405288958Minecraft Guide to Farming: 9781405290104Minecraft Blockopedia: 9781405273534Minecraft: Exploded Builds: Medieval Fortress: 9781405284172Minecraft The Survivors' Book of Secrets: 9781405283335Minecraft Survival Tin: 9781405288200Minecraft Mobestiary: 9781405286022Minecraft: The Ultimate Construction Collection: 9781405291927Minecraft is a multi-platform block-based gaming sensation available on Xbox, PlayStation, PC and mobile devices.
Whether you're in Creative, Survival or Hardcore Mode, the official Mojang-approved Minecraft books contain all the advice you need to survive and thrive.
Free Home Delivery
on all orders
Pick up orders
from local bookshops