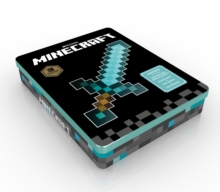 Minecraft Survival Tin : An official Minecraft product from Mojang
Hardback
Description
Immerse yourself in advanced survival strategy with the Minecraft Survival Tin.
Inside you'll find:- The Survivors' Book of Secrets, a cunning and ingenious book written by expert Minecrafters. - The Survival Doodle Book, in which you can demonstrate what you've learned and doodle your way through all three Minecraft dimensions. - A hostile mob identification poster. - Stickers of your favourite mobs. Perfect for Minecrafters 7+Collect all of the official Minecraft books to become the best Minecrafter you can be:Minecraft Guide to ExplorationMinecraft Guide to CreativeMinecraft Guide to RedstoneMinecraft Guide to The Nether and the EndMinecraft MobestiaryMinecraft Survival Sticker BookMinecraft The Survivors' Book of SecretsMinecraft: Exploded Builds: Medieval FortressMinecraft BlockopediaMojang is the Swedish video game developer that introduced the world to Minecraft, the gaming sensation built upon blocks.
Markus `Notch' Persson founded the company so that he could give up his day job and go into full-time Creative Mode with his best friend Carl Manneh.
The alpha version of Minecraft was launched in 2009, and the official game went on sale in 2011.
Since then 70 million copies have been sold. It is now the third best-selling video game of all time.
Mojang HQ has also developed Scrolls, Cobalt, and Crown and Council.
Mojang was bought by Microsoft in 2014, but remains the hub of the Minecraft empire.
Free Home Delivery
on all orders
Pick up orders
from local bookshops