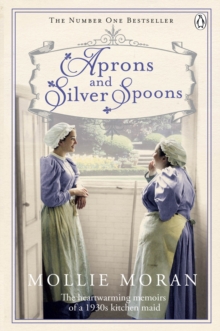 Aprons and Silver Spoons : The heartwarming memoirs of a 1930s scullery maid
Paperback / softback
Description
'IF YOU LOVE DOWNTON, THIS IS RIGHT UP YOUR STREET!
CloserIf you liked Downton Abbey and Upstairs, Downstairs, it's time to discover the true story in Mollie Moran's Sunday Times charming bestselling memoir of life as a 1930s kitchen maid.
When young Mollie became a 'skivvy' in a stately London townhouse aged just 14, she quickly learned that she would need a large amount of elbow grease and a sense of humour.
Through Mollie's eyes we are offered a fascinating glimpse into London's invisible 'downstairs', a world that has long-since vanished: cooking huge roast dinners, polishing doorknobs, scrubbing steps - and covering up her employers' scandals.
Going to dances with her fellow servants and flirting with Harrods' errand boys, she had no idea that the oncoming war in 1939 would change her world, and that of those she served, forever... Discover the real hardships and rewards for a pre-war domestic servant in Mollie Moran's charming memoir. __________'This evocative memoir . . . provides a fascinating insight into a world that has long since disappeared' Sun 'A vivid, entertaining and human glimpse into life in service during the 1930s complete with recipes, tips and photos' My Weekly
Information
Format: Paperback / softback
Pages: 384 pages
Publisher: Penguin Books Ltd
Publication Date: 14/03/2013
Category: Memoirs
ISBN: 9780718159993
Also by Mollie Moran