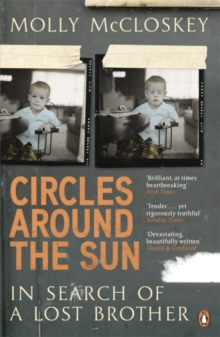 Circles around the Sun : In Search of a Lost Brother
Paperback / softback
Description
A true story of madness, addiction, and a sister's quest for her lost brotherWhen Molly McCloskey was a young girl, her brother Mike - fourteen years her senior - started showing signs of paranoid schizophrenia.
By the time Molly was old enough to begin to know him, he was frequently delusional, heavily medicated, living in hospitals or care homes or on the road.
In Circles around the Sun, she tells Mike's story - which is also the story of her own demons and of how a seemingly perfect family slowly fell apart and, in the end, regrouped.
It is a work of extraordinary intensity and drama from a wonderfully gifted writer. 'Every once in a while, a writer's voice hits such a clear note, the resulting book has the kind of sweetness that makes you hold it in your hands a moment before finding a place for it on your shelves.
Circles Around the Sun is this kind of book: it's a keeper.
A memoir of a schizophrenic brother, written with great care and simplicity, it is one of those stories that waited until its writer was ready to tell it.' Anne Enright, Guardian'Brilliant, at times heartbreaking ...
A remarkably courageous memoir that is as strange and rich as any fiction' Irish Times'Devastating, beautifully written ... feels like one of those books the author simply had to get written' Dazed & Confused'Her prose is tender, sometimes dreamlike, and yet rigorously truthful' Justine McCarthy, Sunday Times'Brilliant ...
Circles around the Sun is an extraordinary accounting of singular sorrows and no uncertain triumphs that should resonate for every reader with a family of their own' Irish Times'There is a rare, uplifting honesty about this heartbreaking story' Irish Independent
Information
Format: Paperback / softback
Pages: 240 pages
Publisher: Penguin Books Ltd
Publication Date: 02/02/2012
Category: Memoirs
ISBN: 9780241952160