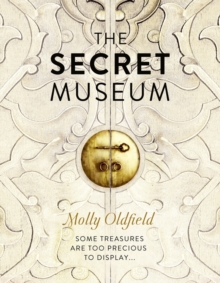 The Secret Museum
Hardback
Description
The Secret Museum is a unique treasure trove of the most intriguing artifacts hidden away in museum archives from all over the world - curated, brought to light, and brought to life by Molly Oldfield in a beautifully illustrated collection.Who knows what's hidden from view?
Locked away in cabinets, secure storage and aircraft hangars.Most of a museum's collection never gets seen.
It sits in the quiet dark of an archive waiting for a treasure hunter or obsessive researcher to root out its very existence.
Under the streets of Manhattan priceless books are shelved; brick outbuildings in London's East End house drawers of Victorian embroidery remembering foundlings long ago dead; body bags in Washington clothe space suits covered in real moon dust and in an unvisited aircraft hangar sits Auguste Piccard's extraordinary invention, the balloon gondola...This and many other extraordinary inventions, legacies, discoveries and artefacts have been visited and curated by Molly Oldfield into a Secret Museum.
Rich in atmosphere and anecdote, suffused with the surprising emotion of a personal discovery, but grounded in fascinating factual detail, this is a unique and beautifully illustrated book.The Secret Museum reveals sixty unknown artefacts and stories from all five continents, from Rome to Rio and Boston to Berlin. And like the very best mornings spent at a museum it promises to be idiosyncratic, surprising and enormously good fun.The Artefacts in the book include: An original Gutenberg Bible printed on vellum, Harrison Schmitt's Space Suit, A piece of Newton's Apple Tree, Van Gogh's Sketchbooks, The original drawings of Wimbledon's Centre Court, Dickens' letter opener,Three pieces of Mars, and much more...
Information
Format: Hardback
Pages: 352 pages, 200 col illus, (over 200 colour photographs and illustrations)
Publisher: HarperCollins Publishers
Publication Date: 01/02/2013
ISBN: 9780007455287
Free Home Delivery
on all orders
Pick up orders
from local bookshops
Reviews
Showing 1 - 1 of 1 reviews.
Review by tnilsson
23/09/2015
Museums know that visitors want information about the items they see on display. But they realize that what visitors want most is to see the items themselves. Museum exhibits thus concentrate on displaying their collections, providing only minimal information about the items on display. Museum's make up for their general lack of exhibit information with books that provide more detailed information about the items on display. There is, however, one large gap in this system: museums generally own more items than they have room to display, with many of those items being too fragile to display even if the museum would like to do so. These items seldom appear in displays or in museum books.I purchased Molly Oldfield's book - a book purporting to present especially interesting items that museums normally cannot display, along with information about those items – because it seemed like the perfect way to bridge at least some part of that gap. I did so despite some rather negative reviews about the book, assuming the book would nevertheless contain sufficiently interesting information to make it a worthwhile purchase. I should have known better than to ignore the reviews.Whereas recent books of this nature present wonderful full-page photographs of the items being discussed, along with good descriptions of the items, their place in history, and their importance, Ms. Oldfield chose for some inexplicable reason to do none of that. Most of her entries waste a full page on a title and a silly paper cutout representing the item being discussed (in the case of the entry for a piece of Newton's apple tree, the cutout consists of a falling apple shape). Her entries then continue with a pithy half- or full-page quote, a rather simple discussion relating to the item (usually at least. In the case of the 4½-page entry for a particular Mexican seed, Ms. Oldfield only mentions the seed on the title page and in a 24-word sidebar. She does not give any explanation as to why she selected this seed for her entry, why it is important, etc.), several childish watercolors that could perhaps charitably be said to at least tangentially relate to the item at issue, a few equally tangential 1x2" photographs of related people or places, and – worst of all her crimes - usually at most a 1x2" inch photograph of the item itself relegated to a sidebar.I have other quibbles with Ms. Oldfield's book. She includes entries for items that have disappeared from museum collections and can no longer be found. She includes entries on items that many see on the street on a daily basis (such as post boxes). And she includes black and white photos, with captions that glowingly describe the item's wondrous colors (as if 1x2" photos aren't bad enough and she was seeking some way to make her book even worse). I don't think I have ever come across a book that was so disappointing, that could have been so much more than what it is if someone has only given it a modicum of thought or care (merely replacing the useless 7x10" title pages with 7x10" photos of the items being discussed would have vastly improved her book, perhaps even making it a worthwhile purchase).If you love museums, and wish you could get a glimpse into their private collections, avoid this book. Spend your money instead on one of the recent museum books that does this type of book right: Neil MacGregor's "A History of the World in 100 Objects" or his "Shakespeare's Restless World", Richard Kurin's "The Smithsonian's History of America in 101 Objects", Katarina Harrison Lindbergh's and Dick Harrison's "101 föremål ur Sveriges historia" (101 Items from Swedish History), or even DK Publishing's "History of the World in 1,000 Objects" (which presents many more objects than the other books but gives much less detailed descriptions of them). Any of these books are marvelous and provide an example of what Ms. Oldfield's book could so easily have been.