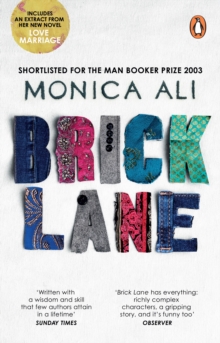 Description
Still in her teenage years, Nazneen finds herself in an arranged marriage with a disappointed man who is twenty years older.
Away from the mud and heat of her Bangladeshi village, home is now a cramped flat in a high-rise block in London's East End.
Nazneen knows not a word of English, and is forced to depend on her husband.
But unlike him she is practical and wise, and befriends a fellow Asian girl Razia, who helps her understand the strange ways of her adopted new British home.
Nazneen keeps in touch with her sister Hasina back in the village.
But the rebellious Hasina has kicked against cultural tradition and run off in a 'love marriage' with the man of her dreams.
When he suddenly turns violent, she is forced into the degrading job of garment girl in a cloth factory.
Confined in her flat by tradition and family duty, Nazneen also sews furiously for a living, shut away with her buttons and linings - until the radical Karim steps unexpectedly into her life.
On a background of racial conflict and tension, they embark on a love affair that forces Nazneen finally to take control of her fate. Strikingly imagined, gracious and funny, this novel is at once epic and intimate. Exploring the role of Fate in our lives - those who accept it; those who defy it - it traces the extraordinary transformation of an Asian girl, from cautious and shy to bold and dignified woman.
Information
Format: Paperback
Pages: 496 pages
Publisher: Transworld Publishers Ltd
Publication Date: 02/02/2004
ISBN: 9780552771153
Other Formats
EPUB from £4.99
eAudiobook MP3 from £6.79
Free Home Delivery
on all orders
Pick up orders
from local bookshops
Reviews
Showing 1 - 5 of 7 reviews.
Previous | Next
Review by Lilian78
16/06/2015
One of the few books I've started but couldn't finish. I found it very boring and not very well written.
Review by booksbooks11
16/06/2015
A wonderfully engaging story about a young woman's life in India and England, a struggle for her to find herself and live out her life with some dignity. I loved it!
Review by dylanwolf
16/06/2015
Monica Ali's debut novel, Brick Lane, has been both cheered and sneered at by critics and readers. I lean greatly towards the cheers side. This is a honest, revealing and presumably accurate domestic novel of the Bangladeshi community in London. The book follows the difficulties of Nazneen, a young Bangladeshi woman conforming into an arranged marriage with Chanu, a failed and somewhat deluded individual many years her elder. Nevertheless, Chanu is written, fully fleshed out, with some sympathy. Nazneen, westernised and inquisitive, grows an increasingly intimate relationship with Karim who visits her house with sewing work. Nazneen's life is contrasted with that of her sister Hasina, surviving a violent marriage back in Bangladesh.Brick Lane is an open and illuminating portrait of life in Britain for the Bangladeshi community and a very good read.
Review by aapjebaapje
16/06/2015
I didn't want to read this but it was on my shelf as the next in line so I did and I'm very glad I did. It is a contemporary novel about a bride from Bangladesh brought to London and her story from then until the present day. It followed her growth as a woman and provided an insight into immigrant life. I had never really appreciated fully the difficulties of immigrants and the prejudice they suffer until this book. I thought I did, but I didn't.
Review by Clurb
16/06/2015
A study of a young Indian woman coming to terms with married life in England which is very worthy and touches on some intriguing issues but I couldn't make up my mind about this one. The tragi-comic character of Chanu kept me entertained throughout, and I thought Ali's portrayal of Nazneen's brief relationship with her son was very touching and sincere, but for the most part I found the main characters unfinished and unable to sustain my interest. Whilst the ideas of community and belonging that Ali touches upon are worthy of investigation, I felt like Brick Lane was only half a discussion and that with a little more effort, Ali could have injected much more insight and interest into it all.