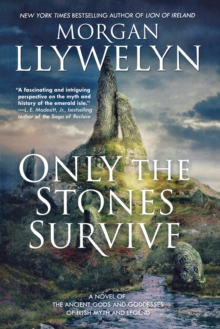 Only the Stones Survive : A Novel
Paperback / softback
Description
A novel of the ancient gods and goddesses of Irish myth and legend.For centuries the Tuatha De Danann lived in peace-until that peace was shattered by the arrival of invaders.
The Gaels, the Children of Milesios, came looking for easy riches and conquest, following the story of an island to the west where their every desire could be granted.
They had not anticipated that it would already be home to others, and against the advice of their druids, they begin to exterminate the Tuatha De Danann.Joss was on the cusp of becoming a man when the Gaels slaughtered the kings and queens of his people.
Left without a mother and father, he must find a way to unite what is left of his people and lead them into hiding.
But even broken and scattered, Joss and his people are not without strange powers.
Information
Format: Paperback / softback
Pages: 304 pages
Publisher: St Martin's Press
Publication Date: 26/01/2017
Category: Myth & legend told as fiction
ISBN: 9780765337931
Free Home Delivery
on all orders
Pick up orders
from local bookshops