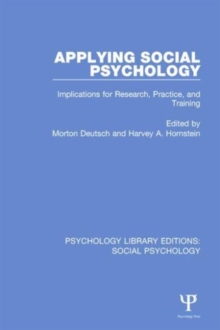 Applying Social Psychology : Implications for Research, Practice, and Training
Hardback
Description
Originally published in 1975, these contributions surveyed the range of social intervention technology available to psychologists at the time, but they are more than a simple cataloguing of technology.
The stress is on articulating certain metatheoretical assumptions that underlie different strategies of social intervention.
For example, assumptions about the personal agency, the nature of social systems, and levels and forms of interpersonal influences are all examined.
The implications for the training of psychologists are developed, and specific attention is given to the identity crisis in social psychology precipitated by existing pressures and potentials for change at the time.
Also in the Psychology Library Editions: Social Psychology series | View all