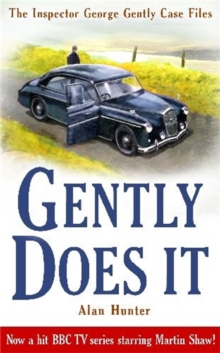 Description
The last thing you need when you're on holiday is to become involved in a murder.
For most people, that would easily qualify as the holiday from hell.
For George Gently, it is a case of business as usual.
The Chief Inspector's quiet Easter break in Norchester is rudely interrupted when a local timber merchant is found dead.
His son, with whom he had been seen arguing, immediately becomes the prime suspect, although Gently is far from convinced of his guilt.Norchester City Police gratefully accept Gently's offer to help investigate the murder, but he soon clashes with Inspector Hansom, the officer in charge of the case.
Hansom's idea of conclusive evidence appals Gently almost as much as Gently's thorough, detailed, methodical style of investigation exasperates Hansom, who considers the murder to be a straightforward affair.Locking horns with the local law is a distraction Gently can do without when he's on the trail of a killer.
Information
Format: Paperback
Pages: 256 pages
Publisher: Little, Brown Book Group
Publication Date: 20/10/2009
Category: Crime & mystery
ISBN: 9781849014984
Free Home Delivery
on all orders
Pick up orders
from local bookshops
Reviews
Showing 1 - 4 of 4 reviews.
Review by AJBraithwaite
16/06/2015
Very much of its time, a snapshot of 1950s life in a fairly thinly-disguised Norwich. The detective story is slow and fairly plodding, but none the less entertaining for that. Sometimes Hunter's writing feels a little over-wrought by today's standards, but only occasionally. It's an enjoyable read and a quick one.
Review by VivienneR
27/08/2015
In a preface, Hunter says this is not a "whodunit" but his aim was to provide a picture of a police investigator building up his knowledge of a crime. Thankfully it is a fictional method as it is not recommended for real life. Gently worked alone, without sharing the information he gathered, and against the opinions of his boss and colleagues. Although Hunter's Gently is a nice enough bloke, actor Martin Shaw made him a a much more charismatic personality, which made a great TV series. As the first in the series this was just OK.
Review by Condorena
16/06/2015
This is the first of the George Gently series that was begun in 1955. Gently is a Scotland Yard police inspector from the East Anglia section of England who eventually becomes a Chief Superintendant. This case begins while Gently is on vacation and he gets involved in the murder of a mean old man. The local police force regret asking him to help because he won't let them settle for the easiest to catch and most likely suspect.<br/><br/>Gently quietly but surely teases out the truth from a tangle of lies while eating one pepper met cream after another.What these confections are exactly is unclear, but if he consumes several an hour I wonder that he has any teeth left in his head. Gently is portrayed as a large man who is past worrying about calories. Perhaps hHunter never realized at the time of Gently's debut that he would go on to feature in forty six Gently mysteries the last of which was published i 199. Hunter died in 2005.<br/><br/>There was also a BBC series featuring George Gently and it was after seeing an episode that I dug out my old Gentlys and picked up the birth of Gently.
Review by Vivl
16/06/2015
What a good read! Funny at times, well- and intelligently-written with interesting characters crowned by the particularly engaging George Gently.I've watched the TV show and enjoyed it (no John Bacchus in this book, which is interesting. Was he added to "sex up" the TV series or will he appear in later books?), and am thrilled to find the books do the trick as well.
Also in the George Gently series | View all