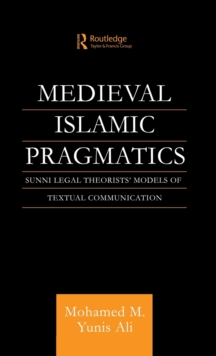 Medieval Islamic Pragmatics : Sunni Legal Theorists' Models of Textual Communication
Hardback
Description
This book deals with two different pragmatic approaches to textual communication: (i) the mainstream approach followed by the 'Ash'ari s, Hanafi s and Mu'tazili s, (ii) the salafite approach followed mainly by the Hanbali s, defended and elaborated by Ibn Taymiyyah.
One of the primary aims of the book is to explore and formulate several Muslim legal theorists' pragmatic theories, communicative principles and linguistic views, construct them in the form of models and set them within a general uniform framework.
Another aim is to reveal a corpus of information and data which, though highly relevant to modern pragmatics, is still unknown.
This study, which can be seen as an extensive introduction to 'medieval Islamic pragmatics', is the first attempt to examine the approaches followed by the Salafi s or the mainstream from a pragmatic viewpoint.
There has been no attempt to explain the principles and the strategies utilised by the medieval Sunni Muslim legal theorists in their account of how communication works and how successful interpretation is achieved.
Of course, a lot of work has been done on different Islamic sects and their different positions over the interpretation of the Quran and Sunnah, but these studies fall short of delving into the underlying communicative principles that motivate their differences over interpretation.
The author's formulation of the Muslim legal theorists' views is enhanced by setting up a reliable theoretical foundation and by delving into their underlying philosophical principles.
This involves relating the legal theorists' insights into interpretation and communication to their relevant ontological, epistemological and theological outlooks, and comparing these insights with their modern pragmatic counterparts.
Information
Format:Hardback
Pages:284 pages
Publisher:Taylor & Francis Ltd
Publication Date:11/02/2000
Category:
ISBN:9780700711024
Other Formats
Paperback / softback from £34.95
PDF from £29.24
EPUB from £29.24
Also by Muhammad M. Yunis Ali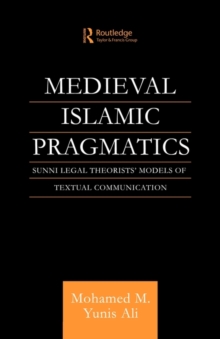 Also in the Routledge Arabic Linguistics Series series | View all