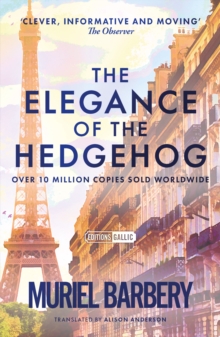 The Elegance of the Hedgehog
Paperback
Description
Rene is the concierge of a grand Parisian apartment building.
She maintains a carefully constructed persona as someone uncultivated but reliable, in keeping with what she feels a concierge should be.
But beneath this facade lies the real Rene: passionate about culture and the arts, and more knowledgeable in many ways than her employers with their outwardly successful but emotionally void lives.
Down in her lodge, apart from weekly visits by her one friend Manuela, Rene lives with only her cat for company.
Meanwhile, several floors up, twelve-year-old Paloma Josse is determined to avoid the pampered and vacuous future laid out for her, and decides to end her life on her thirteenth birthday.
But unknown to them both, the sudden death of one of their privileged neighbours will dramatically alter their lives forever.
By turns moving and hilarious, this unusual and insightful novel is now an international publishing sensation, with sales of over 10 million copies.
Information
Format: Paperback
Pages: 320 pages
Publisher: Gallic Books
Publication Date: 01/05/2009
ISBN: 9781906040185
Other Formats
Hardback from £10.25
EPUB from £7.19
Free Home Delivery
on all orders
Pick up orders
from local bookshops
Reviews
Showing 1 - 5 of 27 reviews.
Previous | Next
Review by RobinDawson
16/06/2015
Delightful!! Such fun!There are two main characters in this French novel. One is the concierge, Renee Michel. She's a salty, surly, dowdy old biddy who is treated with total ignore by the residents of the building – which is just the way she likes it. She takes great care to fulfill their expectations of a lowly concierge …yet in reality she is very intelligent and cultured. She is extremely well read, loves classical music, art films, philosophy – and all things of great beauty. Unlike all those around her, her private life is rich and full.The 2nd character is a young girl called Paloma (12yrs) who lives in Renee's building and is planning her own suicide. Inevitably their paths cross, a friendship develops, one dies…but probably not the one we expected! Quite a twist in the tail.The novel focuses on the residents of the building and Barbery delights in mocking the snobbery and hypocrisy of the French upper classes. Philosophical ruminations play a major role in the book – and at times I skimmed over these mini 'essays', preferring to engage with Renee and Paloma. Booklovers couldn't help but love Renee – she's such an ardent champion of literature, language and grammar. The book is full of delicious and witty observations on all manner of topics. Many times it had me chuckling out loud. It's satirical, tender, moving and quirky – I can't think of any book that's similar.
Review by glade1
16/06/2015
I'm sorry to say I had to give up on this one...After 137 pages I decided I didn't have the will to slog through the rest of it. I'm still deciding whether I think it is deep or pretentious. I cannot really identify with the characters and, although I did find some moments of beauty and humor, I generally found the prose to be verbose and boring. Here's a representative example:<i>Indeed, what constitutes life? Day after day, we put up the brave struggle to play our role in this phantom comedy. We are good primates, so we spend most of our time maintaining and defending our territory, so that it will protect and gratify us; climbing - or trying not to slide down - the tribe's hierarchical ladder, and fornicating in every manner imaginable - even mere phantasms - as much for the pleasure of it as for the promised offspring. Thus we use up a considerable amount of our energy in intimidation and seduction, and these two strategies alone ensure the quest for territory, hierarchy and sex that gives life to our conatus. But none of this touches our consciousness. We talk about love, about good and evil, philosophy and civilisation, and we cling to these respectable icons the way a tick clings to its nice, big, warm dog.</i>Not exactly riveting material. There is little plot to speak of, and much discussion of class differences and intellectual differences. Maybe if I were in a different frame of mind I would enjoy it but at this point in my life I am impatient with it.
Review by camillahoel
16/06/2015
I wish I had not read this in translation. The friend who recommended it to me read it in the French original, and she was quite enthusiastic. I found the language wasn't always spot on in English. And I think I can put that down to the translator. Most of the times when I found it jarred, the phrasing seemed like something that would sound good in French. But because I haven't read it as it should be read, I find it very hard to pronounce judgement on it.I enjoyed reading it, though. Tremendously. In part, perhaps because it reminded me of Helen DeWitt's <i>The Last Samurai</i> (which, seriously people, if you haven't read it yet, get to it) without actually being anything like it. It does not have the leaps and gaps and odd narrative technique which seems to put some people off the latter. The closest it gets to adventurousness in that respect is in its having two narrators. The narrators are interesting, and to me I think the most interesting part of the book. They are both very intelligent, both hiding this fact from the world around them. One as a concierge for wealthy people, the other the (suicidal, for what she considers entirely rational reasons) daughter of one of these wealthy people. Since both provide first person narration, the game of following their voices rather than simply what they say had me quite entertained. People do not always have total understanding of themselves, and I think the awareness of that is something that enriches this book. That does not change the fact that both narrators are unusually intelligent, however. And that they have some interesting observations along the way. I mentioned Helen DeWitt. Where her book is centred around Akira Kurosawa's The Seven Samurai, this book floats around Yasujiro Ozu's films (but without dealing with their plots or treating them directly (much), as far as I can tell). This not only makes itself felt in that the Japanese directors are mentioned in the respective books. More importantly it dictates the feel of the book itself, including its progress. The two books feel distinctly Japan-inspired, but they draw on two very different aspects of Japan as perceived by the West. This may be due to the culture that received it (England and France, respectively). A rudimentary knowledge of philosophy (Husserl gets a good talking-to -- or, rather, is confronted with pastry and loses), an openness to random epiphanies (regarding rugby, amongst other things) and a receptiveness to Cinderella may help you appreciate this book, but I don't know that it is a prerequisite. I also recommend reading it in calm surroundings with a pot of freshly brewed green jasmine tea. I didn't, but it feels like what should be done. I liked it. I don't feel confident that all of you will, but I know some of you should read it. And would enjoy it tremendously.
Review by sarah_rubyred
16/06/2015
I agree that it takes a bit of time to get into, and I have always had a dream of living in a Parisian block of apartements, quietly amused by all the snobbery around me.It's funny, I didn't really enjoy reading this, however, looking back on the story, I'm smiling. Odd.
Review by phoebesmum
16/06/2015
Oh, dear heavens, what a dreadful, tedious, tiresome, PRETENTIOUS book! I am pretty sure that when one of the characters is a 12-year-old who's planning to commit suicide (to avoid a predictable bourgeois future), one isn't supposed to think "Well, get on with it then" and, likewise, when the other main character is a concierge who not only makes a great to-do about her artistic and intellectual superiority but also continually refers to herself as an 'autodidact', one isn't supposed to cheer when the irritating cow gets hit by a truck – and yet, and yet … that's where I found myself. It's either author! or reader!fail, and I know which one I'm betting on. Remember, kids: everything Japanese = refined and cultured; everything Western = decadent and worthless.