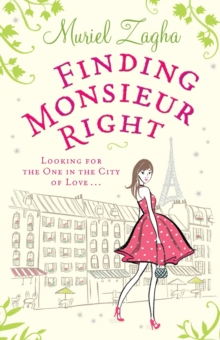 Finding Monsieur Right
Paperback
Description
This is a tale of two cities...two girls...and a life-altering swap.
Daisy's just landed the perfect job: spending a year in Paris writing about fashion.
Swapping homes with French student Isabelle seems like the perfect arrangement.
Sensible Isabelle, however, finds London bewildering.
But all her assumptions about crazy English guys are overturned when she meets hunky gardener Tom.
Meanwhile, fun-loving Daisy discovers that Paris is the City of Love, and more than one Monsieur Right...
Information
Format: Paperback
Pages: 416 pages
Publisher: Ebury Publishing
Publication Date: 21/01/2010
ISBN: 9780091933357
Free Home Delivery
on all orders
Pick up orders
from local bookshops
Reviews
Showing 1 - 1 of 1 reviews.
Review by MariaSavva
16/06/2015
On the whole I liked it, and for a debut novel I would say it's very good.Daisy, an English fashion writer, and Isabelle, a French academic, swap flats for a year, and at the same time they seem to swap friends and lifestyles.My issues with the book started on page 1 of the first Chapter, where there is a whole email written in French. As this is an English language book, I would have liked a translation. There are also sentences in French scattered throughout the book, with no translation, which could leave the reader feeling lost.By about page 200, I was getting bored and almost stopped reading the book. I was having a hard time dealing with the stilted humour and the one dimensional, unoriginal, stereotypical characters. For example, Chrissie, the over-the-top gay fashion designer, and Jules, the depressed Goth. Perhaps a better skilled comedy writer could have pulled these off, but comedy is not easy to write, and in this case most of the book reads like a bad BBC sitcom.Also, at one point in the novel (probably because the author has not accounted for the passing of time clearly enough) there seemed to quite a lot of bed-hopping, which left me feeling a bit nauseous.By now, you are probably thinking I didn't like the book, but that's not true. I'm pleased to say, that as the book progresses the quality of the writing does get better, and you can even get used to the odd characters. They grow on you.On the plus side, there was a good storyline, which kept me interested. I was intrigued by the story about the writer Meredith Quince, who had written a lost, unpublished book, which Isabelle was trying to find. I loved the Epilogue, which in my opinion, was the best part of the book. If I was reviewing that on its own, I would give it 5 stars; it is very romantic and a lovely ending to the book.All in all, I would say 'Finding Monsieur Right' is quite entertaining, and if you can get past the first half of the book, there's lots to like about the novel.