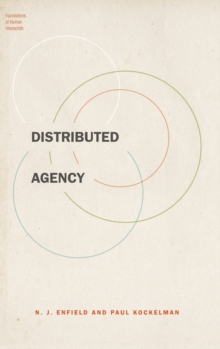 Distributed Agency
Hardback
Description
Distributed Agency presents an interdisciplinary inroad into the latest thinking about the distributed nature of agency: what it's like, what are its conditions of possibility, and what are its consequences.
The book's 25 chapters are written by a wide range of scholars, from anthropology, biology, cognitive science, linguistics, philosophy, psychology, geography, law, economics, and sociology.
While each chapter takes up different materials using differentmethods, they all chart relations between the key elements of agency: intentionality, causality, flexibility and accountability. Each chapter seeks to explain how and why such relations are distributed-not just across individuals, but also across bodies and minds, people and things, spaces and times.
To dothis, the authors work through empirical studies of particular cases, while also offering reviews and syntheses of key ideas from the authors' respective research traditions.
Our goals with this collection of essays are to assemble insights from new research on the anatomy of human agency, to address divergent framings of the issues from different disciplines, and to suggest directions for new debates and lines of research.
We hope that it will be a resource for researchers working on alliedtopics, and for students learning about the elements of human-specific modes of shared action, from causality, intentionality, and personhood to ethics, punishment, and accountability.
Information
Format: Hardback
Pages: 302 pages
Publisher: Oxford University Press Inc
Publication Date: 13/04/2017
Category: Sociolinguistics
ISBN: 9780190457204
Also in the Foundations of Human Interaction series | View all