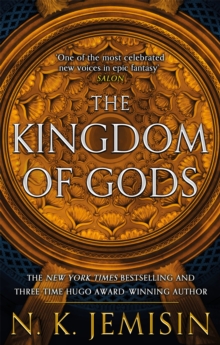 The Kingdom Of Gods
Paperback
Description
For two thousand years the Arameri family has ruled the world by enslaving the very gods that created mortalkind.
Now the gods are free, and the Arameri's ruthless grip is slipping.
Yet they are all that stands between peace and world-spanning, unending war.Shahar, last scion of the family, must choose her loyalties.
She yearns to trust Sieh, the godling she loves. Yet her duty as Arameri heir is to uphold the family's interests, even if that means using and destroying everyone she cares for.As long-suppressed rage and terrible new magics consume the world, the Maelstrom - which even gods fear - is summoned forth.
Shahar and Sieh: mortal and god, lovers and enemies.
Can they stand together against the chaos that threatens the kingdom of gods?
Information
Format: Paperback
Pages: 624 pages
Publisher: Little, Brown Book Group
Publication Date: 01/10/2011
Category: Fantasy
ISBN: 9781841498195
Free Home Delivery
on all orders
Pick up orders
from local bookshops
Reviews
Showing 1 - 5 of 8 reviews.
Previous | Next
Review by faganjc
16/06/2015
This book was incredibly boring. I am a fast reader but had trouble slogging through. Sieh, the point of view character, is static, and unrelatable. Because.... He's a god! It's hard to sympathize with his plight of being turned mortal because.... I'm mortal. Best character is En, followed by Dekarta's tattoos, followed by Dekarta.I loved The Hundred Thousand Kingdoms. I enjoyed Sieh in that book, too. I was disappointed by The Broken Kingdoms, but Oree was a much more interesting POV character than Sieh.
Review by JeremyPreacher
16/06/2015
This did pretty much exactly what I wanted it to. It's a really neat cosmology - I'm always fascinated by explorations of what "divinity" really means, and both the careful definitions and wide range of godlike characters allow for that exploration to its fullest extent. The "what happens when Peter Pan has to grow up" plotline is also excellent, especially with regard to how sexuality differs as an adolescent and an adult. <br/><br/>I very much appreciate books with an inherently queer worldview - a range of partnerships is depicted, and none of them are valued any higher than another, whether couples, threesomes, straight, gay, ambiguous, whatever. I was a little bemused that the Threesome That Rules Universes isn't really interrogated as to its gender makeup - there's a brief nod to gender just not being all that binary for supreme-ish beings, but the two males and a female setup is carried through. Is that inherent in the universe somehow? Or is it just sort of a coincidence? This isn't really a criticism, just a thought - I'm not sure at all that I would have been happier by the poisoned-by-porn two females and a male setup. <br/><br/>Now I kind of want to reread The Hundred Thousand Kingdoms, because I didn't love it and now I can't remember why. Because the rest of the series is just great.
Review by alwright1
16/06/2015
I liked the final book in The Inheritance Triology well enough, but not as much as I enjoyed the first two books. I think it had something to do with the mortals that this story focused on. I've never been big into the Arameri family, and two of the main characters here are definitely those types of people. Still, I enjoyed the visit with all of the other characters, and the plot kept me interested. I look forward to more of Jemisin's work.
Review by ZetaSyanthis
16/06/2015
A finale I could never have imagined when I started the first of these three books... Absolutely magnificent.
Review by MlleEhreen
16/06/2015
The 10,000 Kingdom books leave me in a happy, satisfied daze. I love the writing, which is gorgeous, full of delicious words and phrases worth savoring. I love the characters, all the gods and godlings, for their glorious strangeness. I love the world, which is a pleasure to imagine and still described so wonderfully that I can sit back and be dazzled. And I love the stories, which have the weight and heft of good myth but the intimacy of a proper novel. <br/><br/>Basically, I love everything about these books. <br/><br/>I was thrilled to discover that the main character here is Sieh, who I (sigh, yes, again) have loved in previous books. The Trickster, a god of childhood who's been alive nearly since the dawn of time, innocent and cynical by turns. Sort of like Peter Pan before Wendy came along and tamed him. <br/><br/>It's a joy to spend time with Sieh and to see the world from his point of view, but – I have to admit – my affection for Sieh made the book harder to read. Why? Because in KINGDOM OF THE GODS, Sieh must grow up. I didn't want Sieh to grow up. Nor did I want him to become a mortal, which also happens. <br/><br/>I won't spoil any more of the story. Yeine, Nahadoth, and Itempas reappear, and Sieh has new insight into the complex relationships among the Three. I found myself thinking that even though Yeine, Nahadoth and Itempas have had "their" books that their relationships are so complex and shifting that Jemisin could write whole new stories for them without spoiling or taking away from earlier books. I can't think of another author or series I could say that about.<br/><br/>Enough babbling. This is a great book in a great series. Read it. <br/>
Also in the Inheritance Trilogy series | View all