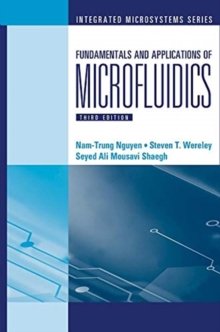 Fundamentals and Applications of Microfluidics, Third Edition
Hardback
Description
Now in its Third Edition, the Artech House bestseller, Fundamentals and Applications of Microfluidics, provides engineers and students with the most complete and current coverage of this cutting-edge field.
This revised and expanded edition provides updated discussions throughout and features critical new material on microfluidic power sources, sensors, cell separation, organ-on-chip and drug delivery systems, 3D culture devices, droplet-based chemical synthesis, paper-based microfluidics for point-of-care, ion concentration polarization, micro-optofluidics and micro-magnetofluidics. The book shows how to take advantage of the performance benefits of microfluidics and serves as an instant reference for state-of-the-art microfluidics technology and applications.
Readers find discussions on a wide range of applications, including fluid control devices, gas and fluid measurement devices, medical testing equipment, and implantable drug pumps.
Professionals get practical guidance in choosing the best fabrication and enabling technology for a specific microfluidic application, and learn how to design a microfluidic device.
Moreover, engineers get simple calculations, ready-to-use data tables, and rules of thumb that help them make design decisions and determine device characteristics quickly.
Information
Format: Hardback
Pages: 400 pages, Illustrations, unspecified
Publisher: Artech House Publishers
Publication Date: 28/02/2019
Category: Nanotechnology
ISBN: 9781630813642