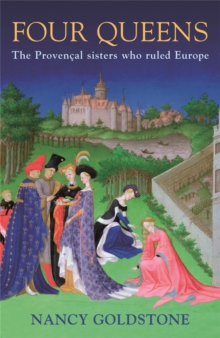 Four Queens : The Provencal Sisters Who Ruled Europe
Paperback
Description
The four beautiful, cultured and clever daughters of the Count and Countess of Provence made illustrious marriages and lived at the epicentre of political power and intrigue in 13th-century Europe. Marguerite accompanied her husband, King Louis IX of France, on his disastrous first crusade to the Holy Land, where straight from childbirth she ransomed him from the Mamluks. And with her sister Eleanor, queen of England, Marguerite engineered a sturdy peace between France and England.
Ambitious Eleanor walked a narrow line while she struggled to build her own power base without alienating her cowardly husband, Henry III.
Beatrice's coronation as queen of Sicily was the culmination of her long, hard-fought campaign to earn respect from her world-famous, mightily accomplished older siblings.
Sanchia wed one of the richest men in Europe, but her reign as queen of Germany, brought her only misery.
From Goldstone's rich, beautifully woven tapestry, medieval Europe springs to vivid life, from the lavish menus of the royal banquets and the sweet songs of the troubadours to the complex machinations of the Pope against the Holy Roman Emperor. This compelling work of history gives women their due as movers and shakers in tumultuous times.
Information
Format: Paperback
Pages: 432 pages, Illustrations, maps
Publisher: Orion Publishing Co
Publication Date: 01/06/2009
Category: European history
ISBN: 9780753826836
Free Home Delivery
on all orders
Pick up orders
from local bookshops
Reviews
Showing 1 - 2 of 2 reviews.
Review by krushkelsey
16/06/2015
this was very well done and gives a good potrait of the trials and characters of the time. i found if fascinating but i'm a history buff and very british. of course we can follow our line up to all 4 so that adds interest. nonetheless... i would recommend it highly. it contains a lot of information and gets it across to you in a very pleasurable, interesting way.
Review by Helenliz
16/06/2015
 This is a tale of four sisters from Provence who married above themselves such that all four became queens and had a significant impact on the state of Europe for decades. The older two became queens of France 7 England, while the younger two ended up queens of the Romans (germany) and Sicily. However I remain unsure how happy any of this made them - and it doesn't necessarily seem to have occurred to the author to try and answer that question for all of them either. This book tries to pack a lot into it and, at times, it feels a little rushed. The focus is on the 4 sisters and their interaction with the family, but to cover the rebellion of de Montfort on a couple of pages felt somewhat sketchy. There is also only a very short chapter on Europe in the aftermath of the sisters, and this is not very detailed, mentioning Sicily not at all, although the election of Rudolh of Hapsburg does get a knowing nob to the future. But the next 50 to 100 years in Europe are barely covered. This is perfectly readable, and doesn't read like an academic tome, but neither does it feel as if it is rooted in scholarship. That may well be doing the author a disservice, but the lack of reference indications makes this feel light. There are plenty of quotations for chroniclers of the period, and from more recent historians, but there is also an amount of speculation that can't be supported. This book is interesting and informative, but strikes me as falling into that trap of being a readable history and not feeling like serious history, while trying to be both.