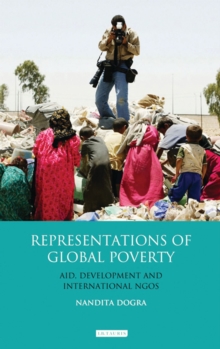 Representations of Global Poverty : Aid, Development and International NGOs
Paperback / softback
Description
Through the efforts of increasingly media-aware NGOs, people in the west are bombarded with images of poverty and inequality in the developing world.
Representations of Poverty is the first comprehensive study of the communications and imagery used by international NGOs to represent the developing world.
In this meticulously researched and original book, Nandita Dogra examines the full cycle of representation - integrating analyses of the public messages of international development NGOs in the UK with the views of their staff and audiences.
Exploring the Europeanised discourses inherent in appeals to this notion of a 'common humanity', she argues for a greater acknowledgment of NGOs as significant mediating institutions which can expand understandings of global inequalities and their historical causation.
The book is a timely addition to the growing fields of development and media studies and will be a key resource for academics, policymakers and practitioners alike who have an interest in global poverty, aid, NGOs, and the politics of representation.
Information
Format: Paperback / softback
Pages: 256 pages, 10 bw integrated
Publisher: Bloomsbury Publishing PLC
Publication Date: 30/11/2013
Category: Development studies
ISBN: 9781780767734