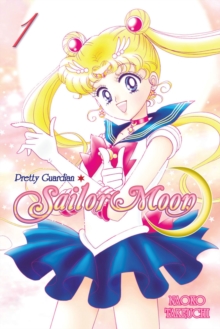 Sailor Moon Vol. 1
Paperback
Information
Format: Paperback
Pages: 248 pages
Publisher: Kodansha America, Inc
Publication Date: 13/09/2011
Category: Manga
ISBN: 9781935429746
Free Home Delivery
on all orders
Pick up orders
from local bookshops
Reviews
Showing 1 - 5 of 5 reviews.
Review by catfantastic
16/06/2015
Oh, the nostalgia!Like many girls, I was first introduced to <i>Sailor Moon</i> in the early 90's with DIC's American translation of the anime series. When I discovered the original Japanese series, which was even better, it became responsible for my love of anime and manga. I remember reading Tokyopop's translations of the <i>Pretty Soldier Sailor Moon</i> manga many years ago, and I love TP for translating it, though they used the American names and were sort of sloppy... This new translation, released by Kodansha Comics (<i>Sailor Moon's</i> Japanese publishers) is excellent and welcome as the TP publications have been out of print for several years.<i>Sailor Moon</i> is the story of Tsukino Usagi, a fourteen year old girl who is a clumsy crybaby, failing in school and wasting her time at arcades and taking naps. Hardly your usual superhero material, right? But she's charming, willing to befriend anyone, and her gradual maturation from whiny crybaby to wise, compassionate, benevolent and powerful <i>goddess</i> is the heart of the series. In the first volume, the clumsy Usagi trips over a cat during her mad-dash to school... The cat turns out to be a magical talking cat, Luna, who decides Usagi is a guardian and bestows upon her a special broach, thus allowing her to transform into a superhero, Sailor Moon. The first story features many powers which are never seen again, like hearing cries for help via her jewelry and seeing the enemy through her mask/goggles. In the first story Usagi/Sailor Moon actually defeats the monster/enemy by crying...letting out a high-frequency cry that is so annoying it paralyzes the monster, giving her time to kill it with her magic tiara-that-becomes-a-killer-frisbee. And yet...as <i>incredibly stupid</i> as that sounds, it's fun. And part of the fun is knowing Usagi will not be this crybaby forever, that she will grow, mature and strengthen as a character over the coming story arcs... The message seems to be that anyone can become a hero, even if they start out as a coward with no clue how to be one, as long as they work hard and remain kind and optimistic. And who can argue with a moral like that?In the second story, Usagi befriends a girl named Ami - a girl who is so outrageously smart that the other students consider her inhuman, snobby and unapproachable. Usagi quickly decides Ami is actually nice and cute and wants to be friends with her. Ami is quickly revealed to be another guardian, Sailor Mercury. In the third story, they meet the third guardian, Rei/Sailor Mars. The third story is a delight for several reasons, one of them is that despite her crush on the mysterious and masked thief Tuxedo Mask, and her flirting with the cute arcade guy, Furu-chan, Usagi is also interested in chasing after cute girls...First of all, Ami gets Usagi to take the bus with her with the promise that <i>"you sometimes get to see a truly beautiful girl riding."</i> (p. 90) The girl is Hino Rei, a beautiful, graceful student at a private academy, who also works as a miko at a Shinto temple. Usagi proceeds to follow Rei around with hearts in her eyes, following her to the temple where Rei works. When she is attacked by Rei's pet crows, she doesn't hold a grudge because, Usagi says, <i>"When it's a pretty girl, I'm willing to forgive just about anything."</i>Over the course of the series, Takeuchi Naoko-sama adds a lot of lesbian and bisexual subtext among the guardians, and Sailor Neptune and Sailor Uranus (who do not appear until later volumes) are definitely a couple. But Usagi/Sailor Moon's main romance is with Tuxedo Mask, and I have to say it is very cute in this volume! The first time she bumps into his alter-ego, the high-school student Chiba Mamoru, she dismisses him as a <i>"pretentious jerk"</i> in a tuxedo. The first time she sees him as Tuxedo Mask, after defeating her first monster at a jewelry store, she thinks of him as a romantic character <i>"like the famous thief Lupin."</i> The contrast between how she thinks of "Mamoru" and how she crushes on "Tuxedo Mask" is hilarious and charming. In this volume Usagi finds Ami, the girl-genius who is also Sailor Mercury, Rei, the beautiful priestess with psychic premonitions who is also Sailor Mars, and Makoto, the tall and strong girl who is really feminine and sweet and is also Sailor Jupiter. She dances at a ball with Tuxedo Mask, and is warned by her talking-cat Luna that she must find the moon princess and protect her and the "legendary silver crystal," a jewel with limitless destructive power. Their enemies are a mysterious presence - the four "kings of Heaven" who have divided the world between them, and seek the power of the silver crystal. In the meantime they suck the energy of ordinary humans to power their mysterious and sinister leader. This is a wonderfully fun story - whimsical, magical, "girly"...I am very happy that Kodansha is releasing such a good-quality English translation, and I am looking forwards to reliving the rest of the <i>Sailor Moon</i> saga with them in future volumes!
Review by rjmoir
16/06/2015
A newly formatted and translated edition of the seminal manga, which follows 14 year old klutzy cry-baby Usagi Tsukino as she stumbles, quit literally, over her destiny. Tripping over a cat with a strange, crescent moon marking on its forehead, Usagi soon finds the cat in her bedroom, and talking.Its name is Luna, and it has been looking for Usagi, who is really a member of the moon kingdom reborn, charged with finding and guarding the reincarnated moon princess and the mysterious Silver Crystal. Granted the ability to transform into the magical hero Sailor Moon, Usagi reluctantly sets out to find her allies, her princess, and the Silver Crystal. Comparatively very clean, the Kodansha reprints removes the out of place teen lingo, the awkward amalgamation of Japanese and English names, and the painful fonts. The new edition does not attempt to replace or hide the written Japanese sound effects, which Takeuchi weaves within the art; rather, the place unobtrusive translations along side each artistic set of characters. The back matter provides several helpful notes on translation, not just of specific words, but Japanese cultural cues that might entirely bypass English-speaking readers. The original story, told using a long limbed and wide-eyed shoujo art style, advances at an incredibly fast pace, introducing several heroes and defeating several heroes over the course of a few chapters.This first volume stumbles a bit, charging forward as quickly as it does, but ultimately evolves into a formative tale beloved by lady comic fans the world over, and thus comes very recommended in its new package.
Review by thelukewarm225
16/06/2015
I'm not sure what's so comforting about reading Sailor Moon, but it's what got me through marathon 27 hours of work in two days last weekend. We got a huge stack of these at work and its already gone, so I must not be the only one to find our whiney, clutzy heroine soothing haha Side note: this new translation is MUCH better than what I remember reading previously.
Review by ToasterFaerie
16/06/2015
I've waited a long time for this to come out. This part of the story I am pretty familiar with, but I was pleased to have an accurate English translation in my hands.<br/><br/>I will always be blown away by the effortless elegance of Takeuchi's art.<br/><br/>The translation was a bit stilted and formal in many places. The Mixx translation, though less accurate I'm sure, felt much more lively. Including the color pages was a nice bonus on Kodansha's part. I also would have been prepared to pay more for this volume if the printing was of higher quality, but I guess that's the market and you take what you can get.
Review by vonze
16/06/2015
Being a Sailor Moon anime fan since it appeared on Toonami, I wasn't sure if the manga could add much to my love or understanding of the storyline. I was WRONG. Wish I had read this years and years ago.<br/><br/>While the American version of the anime focuses a lot of comedy, the manga seems to have more action. Sailor Moon is still a dork, but she appears to be less of an airhead. To me, she came across as kinder and less whiny. <br/><br/>Four stars, because the translation was still a little strange in places.