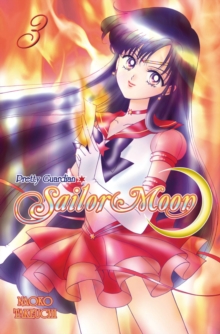 Sailor Moon Vol. 3
Paperback
Information
Format: Paperback
Pages: 176 pages
Publisher: Kodansha America, Inc
Publication Date: 17/01/2012
Category: Manga
ISBN: 9781935429760
Free Home Delivery
on all orders
Pick up orders
from local bookshops
Reviews
Showing 1 - 2 of 2 reviews.
Review by Silvernfire
16/06/2015
It's not like I wasn't familiar with this plot. I read the entire series back in its first English incarnation, and while that was hardly the gold standard of Japanese-to-English translation, the story itself came through. But it's only on rereading it in this edition, years later, that I'm realizing what a little bloodbath this series is, all wrapped up in romance and silver crystals. Oddly, the high death toll never seems to faze our heroines, which annoys me a bit. No, I never expected a dark angst-ridden story and it wouldn't fit this genre anyway. But the way the girls have no long-term effects from either the violence they suffer or that they inflict seems as magical and fantastical as their being reincarnated planetary princesses accompanied by talking cats.But on to other matters. The Dark Kingdom story arc wraps up fairly satisfactorily and the Black Moon arc begins. The Black Moon arc has its faults—I'm still not wild about how time-compressed events can feel in this series—but overall, it seems like Takeuchi was finding her balance and things flow better in this arc. The dialogue seems clunky in spots; I'm not sure if that's because of the translation or if it sounds stilted in Japanese as well. Wow, I'd forgotten about Chibi-Usa's gun scene. The original manga was published in the 1990's in a country without much in the way of gun violence, and I know that, but it's now impossible for me to read that scene without thinking of real-life incidents with worse outcomes. Context is everything, I suppose.
Review by catfantastic
16/06/2015
The <i>Sailor Moon</i> manga clips along at break-neck pace, with the first story arc (which took 46 episodes in the anime version!) wraps up half-way through volume three! The anime does have an epic two-part finale to Season 1 (<i>The Sailor Warriors Die! The Tragic Final Battle!</i> was actually the episode title in the Japanese version. Of course the American version butchered it, trying to edit two episodes down into one episode and trying to make it seem like the girls didn't die.) But anyways, the manga version is quite different. It involves more . . . stabbing and slashing with that huge sword that never made it into the show. With Naoko-sama's quick, sketchy drawings there really isn't anything that looks gory or violent. It's more the suggestion of action. We also get to see more of Mamoru/Tuxedo Mask's powers and how they relate to his planet (since he is supposed to be the Earth.) In the anime version he can pretty much only throw his magical roses, but in the manga he also performs remote viewing, can feel the damage done to the planet, and has healing powers.As the first story arc wraps up, Usagi and Mamoru are together, meaning Princess Serenity and Prince Endymion are finally reunited and able to attain the happy ending they were denied in their past lives. Usagi has come to accept her past incarnation, but she is also confident and comfortable saying that she definitely <i>is</i> Usagi Tsukino. Usagi is more than just a "borrowed form," and she is not willing to give up her life as a modern teenager, with parents and friends, to rule over the newly restored Moon Kingdom. At this point the spirit of the long dead Queen Serenity appears, agreeing with her and telling her to have a life full of joy with the one she loves on Earth.The second story arc takes us into what was <i>Sailor Moon R</i> of the anime series. A tiny girl with Usagi's hair style and Usagi's name falls literally out of the sky and into their lives. Who is she and where is she from? The first time she meets her she points a gun at Usagi's head! The first story arc dealt with past lives and a fairy-tale like magic kingdom, the second story arc changes gears, delving into conspiracy theories, UFO sightings and spontaneous human combustion. When Rei agrees to help the Supernatural Research Club at her school's fair by running the fortune telling booth, the club president tells her all about the wave of UFO sightings and cases of spontaneous human combustion that have been happening in Japan. Rei has a bad premonition and fears their new enemy may already be among them. The nuns at Rei's private school have strange black marks appearing on their heads, and Rei finds one of them burned to death. At the school fair another girl sets up a rival fortune telling booth, but her fortunes all involve death. As I side note, I find it interesting that Rei, who is established as a miko shrine priestess and was raised in a Shinto temple by her grandfather, is attending a Catholic school. In this volume we learn her mother died of illness when Rei was young, and her father is involved in politics "or something" and doesn't appear to have anything to do with his daughter. We also learn Ami's parents are divorced, and while her mother is a doctor who lives in an upscale apartment, as seen in the previous volume, her father is a painter of traditional Japanese art. It's interesting and I'm glad we're getting to see some more information on the rest of the Sailor Guardians. I'm enjoying how the conspiracy theory/alien abduction vibe is much more strongly presented in the manga than it was in the anime version. And despite the anime version having more time - the first season was 46 episodes, the second 43) it never gave us details on the girl's parents or let us see what Rei's school was like. Also, I'm ridiculously amused that in the manga version the girls confide in the arcade guy and let him on their secret identities! I'm really enjoying rereading the manga in the shiny new Kodansha translations. It's a lot of fun.