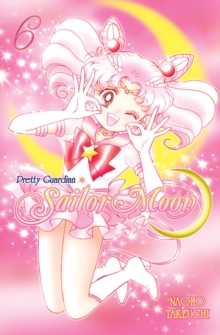 Sailor Moon Vol. 6
Paperback
Information
Format: Paperback
Pages: 176 pages
Publisher: Kodansha America, Inc
Publication Date: 03/07/2012
Category: Manga
ISBN: 9781612620022
Free Home Delivery
on all orders
Pick up orders
from local bookshops
Reviews
Showing 1 - 1 of 1 reviews.
Review by catfantastic
16/06/2015
Yay, so in <i>Sailor Moon</i> volume 6 we finally get to meet my two favourite characters - Sailor Uranus and Sailor Neptune! I'm so happy! Yeah, excuse me while I geek out and fangirl over them!Haruka and Michiru are students at the new and sinister Mugen Academy - an elite institution that teaches everything from kindergarten to post-grad university programs and boasts famous students and world renowned faculty members . . . though their founder, the scientist Tomoe, is known as something of an eccentric and was "ousted" from his original academic circles. Haruka is one of the top Japanese race car drivers, while the beautiful Michiru is a talented violinist. When they first meet, Haruka appears male and seems to identify as male, at least in certain crowds. However, he/she also sometimes appears as a woman. Haruka's androgyny is carried over to her Guardian form, as she appears as either Sailor Uranus <i>or</i> a Tuxedo Mask-type figure. She is really interesting - Haruka and Michiru are definitely a couple, that's established within the first few pages of meeting them. Sometimes Haruka appears to be a female-to-male transgendered person, other times she appears definitely as a woman, a lesbian, defying categorization. The first time Usagi sees Uranus in her Sailor Guardian persona (female) she full-on kisses Usagi on the mouth! my little lesbian heart did cartwheels! Also, Usagi-chan (despite Mamoru being her "one true love") <i>is</i> attracted to Haruka, as well. This seems to go back to the first volume where I think she had a crush on Rei. Honestly, I think the argument could be made that (manga version) Usagi is bisexual - and I love it!LT user makaiju used the term "Uranism" in her review, which I was not aware was an old term for homosexuality. I think it's really fascinating that Naoko-sama obviously did know that, and so tied it into the character of Sailor Uranus in a really significant way. There's just no expressing how much I love Sailor Neptune and Sailor Uranus. When I was a kid, watching the DIC Americanized dub on television, I never would have imagined there were characters like this waiting for me later in the series. Of course, the American version of the cartoon did their best to ruin it, but by that time I was watching the uncut subtitled Japanese versions anyway ;) Part of me wishes someone else would re-do the English dub of the anime, though, so that other little girls (and boys!) could have role models this awesome on North American TV.