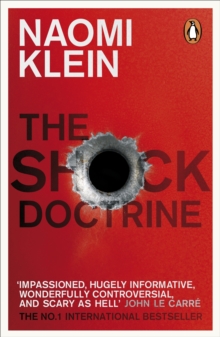 The Shock Doctrine : The Rise of Disaster Capitalism
Paperback
Description
Around the world in Britain, the United States, Asia and the Middle East, there are people with power who are cashing in on chaos; exploiting bloodshed and catastrophe to brutally remake our world in their image.
They are the shock doctors.Exposing these global profiteers, Naomi Klein discovered information and connections that shocked even her about how comprehensively the shock doctors' beliefs now dominate our world - and how this domination has been achieved.
Raking in billions out of the tsunami, plundering Russia, exploiting Iraq - this is the chilling tale of how a few are making a killing while more are getting killed. 'Packed with thinking dynamite ... a book to be read everywhere' John Berger 'If you only read one non-fiction book this year, make it this one' Metro Books of the Year 'There are a few books that really help us understand the present.
The Shock Doctrine is one of those books' John Gray, Guardian 'A brilliant book written with a perfectly distilled anger, channelled through hard fact.
She has indeed surpassed No Logo' Independent
Information
Format: Paperback
Pages: 576 pages
Publisher: Penguin Books Ltd
Publication Date: 01/05/2008
Category: Social impact of disasters
ISBN: 9780141024530
Free Home Delivery
on all orders
Pick up orders
from local bookshops
Reviews
Showing 1 - 5 of 8 reviews.
Previous | Next
Review by minifig
16/06/2015
This is a scary book, but well worth reading. If you're trying to work out what's been happening over the last 10 or so years, then this book sets out the patterns of privitisations, wars and IMF meddling in stark light. It doesn't make for a pleasant read, but if you want to know what's going on, this is for you.
Review by JonArnold
16/06/2015
My problem with The Shock Doctrine is a simple one – I agree with Naomi Klein. I agree, as any civilised person would, with her views on the use of torture. I share her distaste for the theories of Milton Friedman. And I'm right with her on the economic consequences apparently flowing from the mass adoption of the Chicago School's theories as policy. But I'm deeply uncomfortable with books like this that reinforce my viewpoint. They tend to bypass your critical facilities and hit you straight in the 'godammit I'm right!' pleasure centres of the brain. There'll be plenty of cheerleaders for Klein's follow-up to No Logo, likely the same readers who saw her first book as a manifesto for that very reason. And there'll be a smaller subsection of readers who support Chicago School theory who have precisely the opposite problem and are liable to have thrown the book across the room or towards the bin at some point in the second chapter.As a righteous kicking of the theories that have dominated the Western world for the past thirty years or so it's glorious and overdue. Klein's at her strongest when she points out how these ideas had no traction before they were imposed undemocratically, and always with painful consequences for the countries affected. She traces how the ideas spread from their first adoption by Pinochet in Chile, through to the IMF imposing them on nations as a consequence of asking for aid. Although it's clearly flavoured against Friedman's 'shock doctrine' it's a fascinating history of how an idea can spread with or without popular demand, simply by having the right idea available to the right people at the right time. I'd be nodding along happily but for two points. The first, the most obvious, is the heavy handed torture metaphor. Klein draws a parallel between physical and economic torture, linking them explicitly by the actions of regimes using the Chicago School ideas. It's an arresting opening and a blatant attempt to get the reader onside because how many civilised people could disagree about torture's a terrible, unconscionable thing? Not me. But where you stand on Chicago School economics is an ideological thing, and this comes across as going straight for the reptile brain, to bypass thought. Klein's on firmer ground when detailing the consequences of how those ideas affected economies and then the further reaching consequences (particularly with the outsourcing mania under the Bush regime). The other point is a minor factual one. Klein credits Guardian columnist Seamus Milne for background work on the Thatcherite reforms in Britain. It uses the Falklands War to fit into her conflict driven thesis. Unfortunately Milne must have had his ideological blinkers on when helping out with the detail, because the Falklands narrative, though predominant, is total bollocks. It's a narrative supplied by a triumphant press of the 1980s which was overly sympathetic to Thatcher. It played a small role in helping her get re-elected, but the bald electoral facts tell another story. Thatcher lost support in the 1980 election, but her landslide victory was down to the split in the left wing vote caused by the formation of the SDP. The combined left wing vote was greater than the unsplit right wing vote. That's what granted Thatcher's government the political space to enact their ideas – being in the right place at the right time. With some little work it could be reconstructed to fit the narrative, one closer to Reagan's adoption of the ideas in the US, but that Klein accepts received wisdom leads the reader to doubt where else she may have fudged details to fit the grand sweep.A fascinating read then, but a flawed one. Caveat lector!
Review by ennui2342
16/06/2015
A long book to get through but well worth the read. Genuinely changed my view of the world.Naomi Klein looks back at the major conflicts of the last fifty or so years, and paints a picture of the hidden neocon economic agenda behind these 'shocks'. More importantly it exposes the lie behind the free-market ideology, examining how neocon principles have left a trail of destruction behind them, making a small corporatist few rich at the expense of the many. A frightening but enlightening book.
Review by abclaret
16/06/2015
The central tenant of the book is to refute that Friedman style economics lead to any definable liberty in the modern world. Klein argues how 'The Chicago Boys' (Friedman's followers) have worked hand-in-hand with military coups, subverted democracies, endorsed mass repression, brought about 19th century levels of inequality and ratcheted up jingoism to an all time high. Going one further than the 'military industrial complex' she argues 'disaster capitalism' is the pinnacle of Friedman-esque politics, which is a series of right-wing leaning corporations and bodies which have exploited (or in the case of Iraq engineered) disasters, man-made and natural, to push through their very unpopular economic model. The books sweeping style narrative helps show how 'free market' politics has developed from its early unpopular perception to now becoming a sinister cabal of think tanks and the grey area where the political class and corporations seem to inhabit. The books analogy with psychiatric shock treatment I thought was taken too far to be of any help, Klein has a habit of concluding a point twice (as if once wasn't enough) and the book is probably fifty plus pages too long. That said the book helps give enough cause for concern and the chapters on South Africa, China, Iraq and Russia are written so well they will make you want to wet your appetite further.
Review by carlosemferreira
16/06/2015
Naomi Klein's book is an impeccably researched, immensely informative and beautifully written punch to the stomach. It is possibly one of the most scary and irritating books I have read in a long time; one whose argument I don't want to believe, but one that I can't really disagree with. Tried checking some of the facts the author documents; they were correct. And that makes it, in a way, worse: this is a book which clearly deserves its "non-fiction" label, and is, as such, a cry for action.It is perhaps easy to criticise that the author conflates what happened in Chile with what went on in the first years after the Iraq war under the banner of "disaster capitalism", associated with the "shock doctrine" and the search for "blank slates" and "clean canvas". She admits herself that the phenomena are different and the result of evolving processes; but, as is often the case, discourse analysis reveals that the underlying devices that produce these phenomena are indeed common.What will irritate you when reading The Shock Doctrine is the cognitive dissonance it produces: if this is such, and the responsibles are still out there and up to the same old tricks, why are we not up in arms demanding real change?