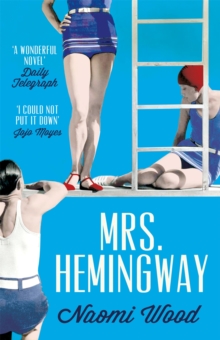 Description
A Richard and Judy Book Club selection. In the dazzling summer of 1926, Ernest Hemingway and his wife Hadley travel from their home in Paris to a villa in the south of France.
They swim, play bridge and drink gin. But wherever they go they are accompanied by the glamorous and irrepressible Fife.
Fife is Hadley's best friend. She is also Ernest's lover. Hadley is the first Mrs. Hemingway, but neither she nor Fife will be the last.
Over the ensuing decades, Ernest's literary career will blaze a trail, but his marriages will be ignited by passion and deceit.
Four extraordinary women will learn what it means to love the most famous writer of his generation, and each will be forced to ask herself how far she will go to remain his wife ...Luminous and intoxicating, Mrs. Hemingway by Naomi Wood portrays real lives with rare intimacy and plumbs the depths of the human heart.
Information
Format: Paperback
Pages: 256 pages
Publisher: Pan Macmillan
Publication Date: 01/01/2015
ISBN: 9781447226888
Other Formats
EPUB from £4.31
CD-Audio from £15.45
eAudiobook MP3 from £16.76
Free Home Delivery
on all orders
Pick up orders
from local bookshops
Reviews
Showing 1 - 1 of 1 reviews.
Review by missizicks
27/08/2015
The book was an interesting fictionalisation, and I wonder how much the available information on each woman influenced the way they are portrayed by Naomi Wood. Only Mary Welsh wrote her own memoir. Only Mary Welsh comes across with any warmth.Hadley Richardson was wife #1. Her tale made me sad, how weak Hemingway was and how accepting of his weakness she was. It didn't make me warm to Hemingway any.Fife Pfeiffer was wife #2. She was the winner to Hadley's loser. Feistier when it came to her own losing, but still not feisty enough to force Hemingway to grow a pair and stop chasing the thrill of the first flush.Martha Gellhorn was wife #3. A college-girl crush on a famous writer that turned into codependency via marriage. She is Fife+. More of a match, more her own person, but consequently blind to the inevitable, because she is focused on her own selfish needs, not his. She is neither admirable nor sympathetic. I feel like they deserved each other and nobody should care.Mary Welsh was the better wife, wife #4. She had the measure of the man, and the man was older. The extraordinary events of the 20th century had their impact, too, it comes across. To live through 2 world wars, the Spanish Civil War and the upheavals of modern life's rapid change meant Mary was a different woman to the previous three wives, and Hemingway a different man, by the time their paths crossed. I liked Mary.