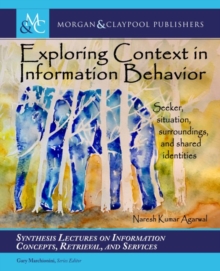 Exploring Context in Information Behavior : Seeker, Situation, Surroundings, and Shared identities
Paperback / softback
Description
The field of human information behavior runs the gamut of processes from the realization of a need or gap in understanding, to the search for information from one or more sources to fill that gap, to the use of that information to complete a task at hand or to satisfy a curiosity, as well as other behaviors such as avoiding information or finding information serendipitously.
Designers of mechanisms, tools and computer-based systems to facilitate this seeking and search process often lack a full knowledge of the context surrounding the search.
This context may vary depending on the job or role of the person, individual characteristics such as personality, domain knowledge, age, gender, perception of self, etc., the task at hand, the source and the channel as well as their degree of accessibility and usability, and the relationship that the seeker shares with the source.
Yet researchers still do not to agree on what context really means.
While there have been various research studies incorporating context and biennial conferences on context in information behavior, there lacks a clear definition of what context is, what its boundaries are, and what elements and variables comprise context. This book looks at the many definitions and theoretical and empirical studies of context, and the author attempts to map the conceptual space of context in information behavior.
The book proposes theoretical frameworks for mapping the boundaries, elements and variables of context.
It further discusses how to incorporate these frameworks and variables in the design of research studies on context.
The author then arrives at a unified definition of context.
This book should provide a better understanding of context to designers of search systems as they seek to meet the needs and demands of information seekers.
It will be an important resource for researchers in Library and Information Science, especially doctoral students looking for one resource that covers an exhaustive range of the most current literature related to context, the best selection of classics, and a synthesis of these into theoretical frameworks and a unified definition.
The book should help to move forward research in the field by clarifying pertinent elements, variables, and views.
In particular, the list of elements to be considered, and the variables associated with each element, will be extremely useful to researchers wanting to include the influences of context in their studies.
Information
Format: Paperback / softback
Pages: 200 pages
Publisher: Morgan & Claypool Publishers
Publication Date: 30/12/2017
Category: Library & information sciences
ISBN: 9781681730813
Free Home Delivery
on all orders
Pick up orders
from local bookshops