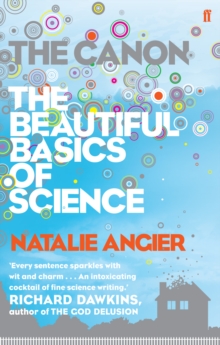 The Canon : The Beautiful Basics of Science
Paperback
Description
Unless we are brilliant at science in our teenage years, many of us put off 'childish things' - science museums, palaeontology - in favour of museums, art galleries and concert halls.
A cultured person, Natalie Angier argues, should know about the classic ideas of physics and biology as well as the classic works of Beethoven and Picasso.
Drawing on conversations with many of the world's leading scientists, Angier takes us on a vivid, good-humoured and informative tour of this neglected canon.
An entertaining guide to scientific literacy - from stem-cell research to bird flu and global warming - that explains the machinery of this place we call home.
Information
Format: Paperback
Pages: 304 pages, ill
Publisher: Faber & Faber
Publication Date: 25/12/2008
Category: Popular science
ISBN: 9780571239726
Free Home Delivery
on all orders
Pick up orders
from local bookshops
Reviews
Showing 1 - 2 of 2 reviews.
Review by julie10reads
16/06/2015
The Canon is vital reading for anyone who wants to understand the great issues of our time — from stem cells and bird flu to evolution and global warming. And it's for every parent who has ever panicked when a child asked how the earth was formed or what electricity is. Angier's sparkling prose and memorable metaphors bring the science to life, reigniting our own childhood delight in discovering how the world works. "Of course you should know about science," writes Angier, "for the same reason Dr. Seuss counsels his readers to sing with a Ying or play Ring the Gack: These things are fun and fun is good." The Canon is a joyride through the major scientific disciplines: physics, chemistry, biology, geology, and astronomy. Along the way, we learn what is actually happening when our ice cream melts or our coffee gets cold, what our liver cells do when we eat a caramel, why the horse is an example of evolution at work, and how we're all really made of stardust. It's Lewis Carroll meets Lewis Thomas — a book that will enrapture, inspire, and enlighten. Summary BPLParticularly enjoyable for Ms Angier's linguistic artistry: puns, alliteration and analogies full of fun and cleverness!NOTE: I found the written format too dense to stay with and downloaded the audiobook; all the better to catch Ms Angier's nimble wordplay!9 out of 10. For readers who want their learning delivered in high quality prose.
Review by zoomball
16/06/2015
My comments are based on the audio book. I really enjoyed Angiers' "Woman" and looked forward to this one. Sigh, 5 D's in I HAVE to stop. Other's have commented about the excessive wit, and indeed, I can't handle it. Maybe in text format I could find it amusing, or skim as needed. However, the book as narrated by a relatively high-pitched female voice, is too irritating for me to continue. I do believe I will get the Kindle version of this for travel reading, the lay person approach to scientific copies will certainly educate me. One other comment, the introduction went on so long I could hardle stand it and almost quit there. With all the excessive text in the intro, I think it might have been helpful if she would have defined "canon".