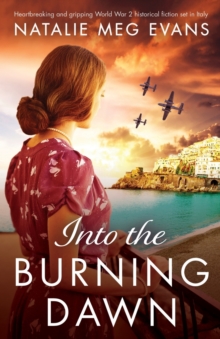 Into the Burning Dawn : Heartbreaking and gripping World War 2 historical fiction set in Italy
Paperback / softback
Description
In the terrace courtyard of the palazzo overlooking a sparkling bay, the scent of ripening lemons filled the air. His deep brown eyes gazed into hers with determination and longing. 'Will you do it? Risk everything and join us?'

Twenty-one-year-old Imogen Fitzgerald was raised in an English orphanage and never knew her parents. So when World War Two breaks out, she refuses to leave the life she's worked so hard to build for herself, teaching English to little Marco and Eloisa in the beautiful Italian city of Naples. With their father Giancarlo away fighting for the fascists, there's no one else to care for these lost children. Imogen's dark hair and perfect Italian will protect her for now, but if anyone discovers her secret identity as an enemy of Italy, Marco and Eloisa will be left with no one.

As the shadows of bomber planes darken the azure-blue waters of the bay, the one person Imogen can depend on is Fabrizio, the children's uncle. He's never seen eye-to-eye with their father, and Imogen is forbidden to speak to him… but whenever they secretly meet in the lemon groves Imogen instantly feels safe. Fabrizio talks passionately of the resistenza, the underground group fighting the regime, and soon Imogen herself is involved – smuggling food along the rocky coast, and even supplying information on Giancarlo to help fight the Nazis and end this awful war.

But when Giancarlo suddenly returns, injured from the fighting, Imogen is shocked to find him much changed. Rather than the fascist sympathiser she knew and resented, she sees in Giancarlo a man who would do anything to protect his children and his beloved Italy. Was she wrong to expose him as a traitor?

Torn between two sides, Imogen's own life is thrown into terrible danger when a child goes missing and her secret identity is exposed… did she put her trust in the wrong man? And is it too late to save herself, and the children from the horrors of war?

An absolutely stunning and evocative historical read about the bravery of ordinary people in dark times, that will sweep you away to the breath-taking coastline of Italy. Perfect for fans of The Nightingale, The Tuscan Child and All the Light We Cannot See.
Read what everyone's saying about Natalie Meg Evans:
'Wow, wow, wow is all I can say… tense and the surprises just kept on coming… it tore at my heart… The words "mind-blowing twist" come to mind.' Shaz's Book Blog, 5 stars

'Such a good story with a wonderful plot… one of the best love stories I've read in a while… dramatic, passionate… suspenseful and cinematic… The emotion she conjures up is phenomenal.' Jthbooks, 5 stars
'A wonderful book, engaging and entertaining. I loved the plot, the characters and the style of writing. I will surely look for other books by this author. Highly recommended!' Goodreads Reviewer, 5 stars

'A beautifully written novel by an extremely talented writer. Excellent character depiction, plus an exciting storyline makes for a roaring success. Highly recommended.' Goodreads Reviewer, 5 stars
Information
Format:Paperback / softback
Pages:472 pages
Publisher:Bookouture
Publication Date:22/09/2020
Category:
ISBN:9781838886059