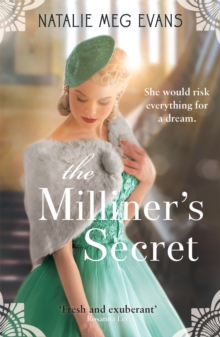 The Milliner's Secret
Paperback
Description
'A captivating story from beginning to end. Full of secrets and intrigue!' Amazon reviewer. Perfect for fans of Amy Snow and Lucinda Riley. Plucky English girl Cora Mason has reinvented herself as Coralie de Lirac - confident French beauty with aristocratic connections.
Catapulted into the sensuous world of Parisian society, Cora becomes a lady's hat maker, but living beyond one's means isn't easy.
When Paris is threatened, the influence of a high-ranking lover protects her secret past . . . but the cruel demands of war - and of love - cannot be kept at bay forever.
Soon Coralie must find the courage to do what's necessary to protect her friends, her freedom and everything she believes in.
Information
Format: Paperback
Pages: 560 pages
Publisher: Quercus Publishing
Publication Date: 28/07/2015
ISBN: 9781848669116
Free Home Delivery
on all orders
Pick up orders
from local bookshops
Reviews
Showing 1 - 1 of 1 reviews.
Review by Sarah_Gruwell
27/01/2016
I was first drawn to this book by the cover. The gorgeous colors and figure dressed so prettily caught my attention while browsing future Amazon titles. When I saw it offered on NetGalley, I jumped at the chance to read and review. For the most part, expectations were met.The character of Coralie took some getting used to. In the beginning, she read as a shallow diva out only to further her dreams and poo to everyone else. I found myself feeling no sympathy for her at all. Yet, once the crap hit the fan and everything happened to her in Paris, my opinion of her did a turn around. Her tenacity, pluck, and intelligence shined as she conquered the fashion world of Paris during the dark days of WWII, survived multiple brushes with danger, and built a life for herself.I also enjoyed the overall storyline. The shifting alliances, shadowy Resistance activities, and the daily life in a war-torn city kept me engaged throughout. She balances the intimate of her character's inner thoughts with the broader spectrum of events like the deportation of Jews and the assassination plot against Hitler to create a well-balanced whole. That's a rare gift with a book this size and was well-appreciated by this reader.The one thing I didn't appreciate was how much melodrama was packed into the story in the second half, especially around Coralie's and Dietrich's relationship. It's "off again, on again" pattern happened so many times that I lost count. There was enough drama with the spy/Resistance thriller elements that this constant soap opera quality was unneeded.I also felt that the ending was rushed, due to the amount of page space dedicated to the melodrama. This book would have benefited from more resolution than one wimpy epilogue and final chapter and less see-sawing relationships.An engrossing tale of resistance and love in Nazi France, this book looks to please all lovers of the genre. You'll get behind the characters as life happens and grow to love the amazing story. While melodrama and a lackluster resolution do bog down the works a bit, I'd not let that stop you from checking out this book. I look forward to checking out the author's other work, which I hear ties into this one.Note: Book received for free from publisher via NetGalley in exchange for an honest review.