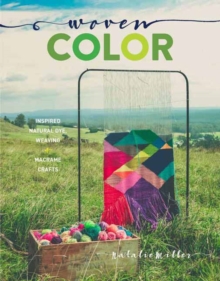 Woven Color : Natural Dye, Weaving, Macrame, and More
Hardback
Description
Dye, knot, and weave your way to gorgeous textile crafts--from delicate macram to eye-catching weavings, from sophisticated shibori to fibers dyed with all the colors of the natural rainbow.
There's been a real resurgence in the textile arts--and Australian artist Natalie Miller is at the forefront of it!
Join her in Woven Color and learn several popular textile techniques, plus 50 enviable projects anyone can do at home.
With step-by-step photos and text, high-style displays, and inspirational images of Natalie's studio and travels, this book is sure to get your creative juices flowing. Chapter 1: Natural Dye Basics Ombre Indigo Dress Rainbow Scarf Logwood Tablecloth & Napkins Eucalyptus & Saffron Knit Scarf Red Onion Skin Lace Shibori Square Comforter Flower-Pressed Waterfall Skirt Pastel Spectrum Garland Cochineal & Indigo Dot Kimono Indigo Beach Towel Bold Gold Turmeric Sheets Chapter 2: Weaving Basics Easy Graphic Bands & Squares Roving Wonder with Neon Pops Landscape Tapestry Wild Weaving Bright Spiral Circular Weave Shaggy Cozy Cushion Mod Roving Lampshade Sweet Floral Scraps Woven Mat Fun & Free Form Tote Funky Tapestry Necklace Indigo Stripes Jacket Peruvian Hat Strap Girls Night Out Rya Clutch Soft Heddle Scarf Colorful Tasseled Earrings Yarn-Wrapped Tee Pee Chapter 3: Macram Basics Classic 70s Plant Hanger All-Natural Shag Wall Hanging Elegant Two-Tone Macram Wall Piece Saffron Knot Statement Necklace Cheerful Party Bunting Hot Pink Owl Wall Hanging Dip-Dyed Ombre Pendant Light Leather Breastpiece Farmers Market Knotted Sack Macram Vintage Chair Back Many Knots Chandelier