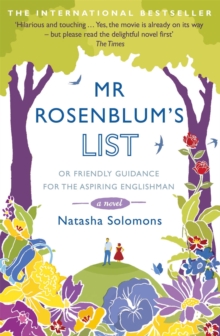 Mr. Rosenblum's List : Or Friendly Guidance for the Aspiring Englishman
Paperback
Description
List item 2: Never speak German on the upper decks of London buses.
Jack Rosenblum is five foot three and a half inches of sheer tenacity.
He's writing a list so he can become a Very English Gentleman.
List item 41: An Englishman buys his marmalade from Fortnum and Mason. It's 1952, and despite his best efforts, his bid to blend in is fraught with unexpected hurdles - including his wife.
Sadie doesn't want to forget where they came from or the family they've lost. And she shows no interest in getting a purple rinse.
List item 112: An Englishman keeps his head in a crisis, even when he's risking everything. Jack leads a reluctant Sadie deep into the English countryside in pursuit of a dream.
Here, in a land of woolly pigs, bluebells and jitterbug cider, they embark on an impossible task...
Information
Format: Paperback
Pages: 336 pages
Publisher: Hodder & Stoughton General Division
Publication Date: 08/07/2010
ISBN: 9780340995662
Free Home Delivery
on all orders
Pick up orders
from local bookshops
Reviews
Showing 1 - 3 of 3 reviews.
Review by CookieDemon
16/06/2015
I recently read Solomon's "A Novel in the Viola" and loved it, so was particularly eager to see if this novel retained a similar kind of magic. Actually for me, this was even better- because it was so wonderfully off the wall and was a brilliantly eclectic mix of humour, heartbreak and optimism. This is a really cracking novel and as far as debuts go, I found it flawless.Though the title of the book initially appeared a bit frothy and the cover a little bit twee, the context of the novel is actually quite substantial, focusing on a Jewish immigrant family arriving in Britain during WWII. Jacob (Jack) Rosenblum becomes fixated with trying to be accepted by his new countrymen and fitting in as a proper `English gentleman' much to the chagrin of his long-suffering wife, Sadie. Moving from London to deepest Dorset, the book chronicles the trials and tribulations of the immigrants trying to gain acceptance, a theme which will no doubt resonate with a lot of readers.The tone of this novel rather put me in mind of Alexander McCall Smiths books- gentle and thought provoking, despite the issues concentrated on. The plot is not fast-paced but becomes all the more appealing for that and as a reader you really get pulled into the story and experience Jack and Sadie's journeys and troubles along with them.The characters are wonderfully written and retain a real sense of charm and whimsy with all of their funny little foibles. The only one I couldn't really feel a lot for was Elizabeth, Jack and Sadie's daughter, who did appear a little bit one dimensional. I really felt for Sadie, a woman who has suffered her own set of heartbreaks in the past, yet isn't really understood by her husband. She was a different kind of heroine to read about, which I enjoyed.I would say that if you are looking for a different kind of read away from gushy romance or gory horror then to definitely give this a go. It is wonderfully old-fashioned and sweet- but thankfully never sickeningly so. *This review also appears on Amazon.co.uk*
Review by jayne_charles
16/06/2015
This book follows the fortunes of Jack and Sadie, Jewish refugees from Germany trying to gain acceptance into English society in the years following the second world war. The way Jack is treated by some "proper" English people begs the question why he would ever want to be one of them, and yet his tenacity is one of the things that make him such an engaging character.The author writes with such skill – describing the rural setting in such a way that the greenery seems to poke up through the page, and doing so again and again and making it new every time. She also incorporates little bits of magic into the story without ever stopping it feeling real. There is profound sadness but it is nicely balanced by humour, and there are issues – like the loss of the characters' cultural identity and links with the past – which are clearly traceable as the story unfolds.The author's notes – complete with recipe - at the end were illuminating too. I am so going to make a Baumtorte.
Review by Clifford.Terry
27/08/2015
A delightful and magical book about culture and assimilation.