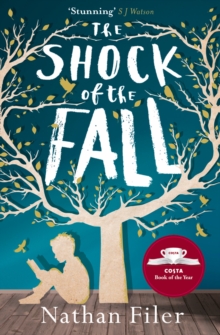 The Shock of the Fall
Paperback
Description
WINNER OF THE COSTA BOOK OF THE YEAR 2013 WINNER OF THE SPECSAVERS POPULAR FICTION BOOK OF THE YEAR 2014 WINNER OF THE BETTY TRASK PRIZE 2014 `I'll tell you what happened because it will be a good way to introduce my brother.
His name's Simon. I think you're going to like him. I really do. But in a couple of pages he'll be dead. And he was never the same after that.' There are books you can't stop reading, which keep you up all night. There are books which let us into the hidden parts of life and make them vividly real. There are books which, because of the sheer skill with which every word is chosen, linger in your mind for days. The Shock of the Fall is all of these books. The Shock of the Fall is an extraordinary portrait of one man's descent into mental illness.
It is a brave and groundbreaking novel from one of the most exciting new voices in fiction.
Information
Format: Paperback
Pages: 320 pages
Publisher: HarperCollins Publishers
Publication Date: 07/01/2014
ISBN: 9780007491452
Other Formats
EPUB from £3.99
eAudiobook MP3 from £6.79
Free Home Delivery
on all orders
Pick up orders
from local bookshops
Reviews
Showing 1 - 5 of 7 reviews.
Previous | Next
Review by elliepotten
16/06/2015
This is a beautifully written, effortlessly smooth and utterly compelling debut novel. Written by a registered mental health nurse, it's about a little boy called Matt whose brother Simon dies while they're on holiday; writing his story down ten years later, Matt chronicles his family's grief and recovery, and his own quiet descent into schizophrenia. It sounds really heavy when you put it like that, but it's not at all. The prose is gorgeous but easy to read, and as he slowly unfurls Matt's history, Filer drops the pieces into place with precise and perfect timing. I breezed through it in two or three days, thoroughly enjoyed every page, chuckled a few times, and had a little weep or two along the way as well. It's perfect.
Review by psutto
16/06/2015
BrilliantMatthew has a mental illness that "sounds like a snake" and this is his story. Filer is a mental health nurse and now a Costa book winner and what a book, a well-deserved win. Filer obviously understands Schizophrenia and this neither mythologises or demonises the illness but gives Matthew space to tell his own story, in his own way. At the end of the book there is a Q&A and Filer says that his vision for the book would be a pile of untidy, different sized, papers, held together with string, paperclips and staples. The book is in a variety of fonts, to represent computer, letters, and typewritten parts as Matthew tells his story, in his own time, with constant interruptions. This is also a story about grief and family.:I'll tell you what happened because it will be a good way to introduce my brother. His name's Simon. I think you're going to like him. I really do. But in a couple of pages he'll be dead. And he was never the same after thatI will say no more about the plot. This is a very affecting, thought-provoking, emotional, intelligent and brilliantly written book. Filer's style grabs you and won't let go. I read this in a single day. It is one of those books where you may find that there is something in your eye in parts so bring a hankie to your favourite reading chair, snuggle up and dive right in.Overall – This very much deserves all the praise and hype, go and get a copy, now!
Review by jolerie
27/08/2015
Writing about the past is a way of reliving it, a way of seeing it unfold all over again. We place memories on pieces of paper to know they will always exist. Page 306/7Matthew Homes isn't your average boy and neither is his brother. One night, they set off from their vacation home. Only one of them returns. What unfolds is a life long journey of learning to deal with grief, of letting go, of forgiveness, all while battling an enemy that is often untouchable but no less insidious. Books that can offer a perspective on subjects that are either unknown or unfamiliar to me are always an invaluable experience. Where the Moon Isn't is no exception. Delving into the subject of mental illness and all the struggles that are inherent in such an existence is both eye opening and terrifying, all at once. Filer gives us a glimpse of the daily struggles, the constant battles, and the unending journey of coping through the story of Matthew. A very poignant and worthwhile read. Recommended.
Review by PennyAnne
16/06/2015
The story of Matthew and his struggle to come to terms with both the loss of his brother and his own developing mental illness. The reader is drawn into Matthew's world, trying to make sense of it as he is. This is the author's first novel and the Costa Book of the Year for 2013. Engaging and thoughtful, the story draws you in and has you hoping that Matthew finds a way to get past his demons and begin to cope more effectively with his illness.
Review by starbox
16/06/2015
"an illness with the shape and sound of a snake. It slithers through the branches of our family tree", November 9, 2014This review is from: The Shock of the Fall by Nathan Filer (2014) Paperback (Paperback)I started reading this morning...and just read and read all day till I finished (300 pages but quite quick reading.)It's narrated by teenage Matt as he looks back on his childhood and the death of his Downs Syndrome brother (we're kept waiting till the end to find out the details on that one).As Matt leaves school (and his grief stricken mother) and begins sharing a flat and using drugs, his brother starts to take over his thoughts..."There is weather and there is climate.If it rains outside, or if you stab a classmate's shoulder with a compass needle, over and over, until his white cotton school shirt looks like blotting paper, that is the weather.But if you live in a place where it is often likely to rain, or your perception falters and dislocates so that you retreat, suspicious and afraid of those closest to you, that is the climate."A compelling read and an insight on how it may feel to have schizophrenia...the side-effects of the medication, that cause sufferers not to take it and life in the mental health system.I did fear it was about to have an unrealistic, 'happy ever after' ending, but Mr Filer keeps things realistic.Recommended.
Also by Nathan Filer