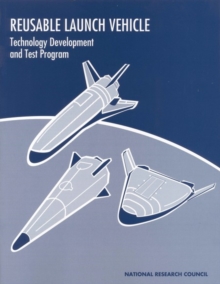 Reusable Launch Vehicle : Technology Development and Test Program
Paperback / softback
Description
The key to opening the use of space to private enterprise and to broader public uses lies in reducing the cost of the transportation to space.
More routine, affordable access to space will entail aircraft-like quick turnaround and reliable operations.
Currently, the space Shuttle is the only reusable launch vehicle, and even parts of it are expendable while other parts require frequent and extensive refurbishment.
NASA's highest priority new activity, the Reusable Launch Vehicle program, is directed toward developing technologies to enable a new generation of space launchers, perhaps but not necessarily with single stage to orbit capability.
This book assesses whether the technology development, test and analysis programs in propulsion and materials-related technologies are properly constituted to provide the information required to support a December 1996 decision to build the X-33, a technology demonstrator vehicle; and suggest, as appropriate, necessary changes in these programs to ensure that they will support vehicle feasibility goals.
Information
Format:Paperback / softback
Pages:98 pages
Publisher:National Academies Press
Publication Date:08/02/1996
Category:
ISBN:9780309054379
Other Formats
EPUB from £30.23
PDF from £22.68
Also by National Research Council | View all