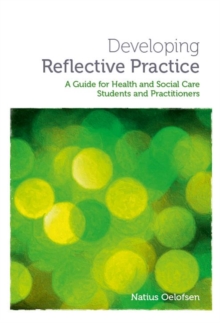 Developing Reflective Practice : A Guide for Students and Practitioners of Health and Social Care
Paperback / softback
Description
From Reviews:"...In this book the clinical psychologist Natius Oelofsen describes the processes of learning and the three-step reflective cycle, explaining how keeping a reflective journal offers insights into self and behaviour, and using critical analysis to reflect on even ordinary, everyday incidents. He shows how the insights of understanding help our interactions with patients and colleagues.
Reflection helps us work together, offer support and see where we are able to fit in as team members.
The chapter 'All for one and one for all: building supportive teams' is particularly illuminating. There is so much in this book, including getting the most from supervision, ethical issues and dealing with work-based stress, as well as exercises, activities and case examples."Nursing Standard, Vol. 26, No. 48, August 2012"Developing Reflective Practice is a thorough and concise book enabling students, qualified nurses and any other health professional to become confident reflective practitioners within their own field....
A well-written and educational tool particularly for a nursing student and even a social work student."Nursing Times, 11 October 2012Developing Reflective Practice is suitable for students and practitioners in a variety of fields, including nursing, psychology, social work, therapeutic child care, and education.
What all of these fields have in common is that practitioners deal with fundamental human needs such as physical and mental health, housing, and education. Students on placement as well as qualified and experienced practitioners can benefit from reading this book and working through the reflective exercises that accompany the text. The goal of the book is to help the reader feel confident and competent when confronted with complex and emotionally demanding situations in the workplace. By working through the numerous and varied activities and exercises detailed in this book, the reader will acquire the skills needed to make sense of their experiences in a professional context.
Information
Format: Paperback / softback
Pages: 228 pages
Publisher: Lantern Publishing Ltd
Publication Date: 15/04/2012
Category: Social welfare & social services
ISBN: 9781908625014
Also by Natius Oelofsen