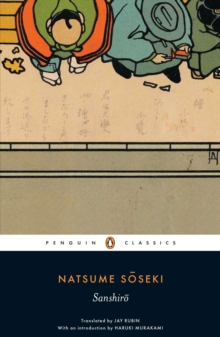 Description
One of Soseki's most beloved works of fiction, the novel depicts the 23-year-old Sanshiro leaving the sleepy countryside for the first time in his life to experience the constantly moving 'real world' of Tokyo, its women and university.
In the subtle tension between our appreciation of Soseki's lively humour and our awareness of Sanshiro's doomed innocence, the novel comes to life.
Sanshiro is also penetrating social and cultural commentary.
Information
Format: Paperback
Pages: 288 pages
Publisher: Penguin Books Ltd
Publication Date: 26/11/2009
Category: Classic fiction (pre c 1945)
ISBN: 9780140455625
Other Formats
Paperback from £5.59
EPUB from £3.99
Free Home Delivery
on all orders
Pick up orders
from local bookshops
Reviews
Showing 1 - 3 of 3 reviews.
Review by TakeItOrLeaveIt
16/06/2015
A vivid and bittersweet telling of a country boy adapting to university life in big city Tokyo circa 1909. More than that, is precisely crafted emotions of Sanshiro himself, a young man who lives a life as authentically as possible immersed by the naturalization of modernity perpetuating his rural upbringing. What is possibly even more interesting that the story itself is the way in which Soseki toys with his youthful Sanshiro. He almost tortures the young man, allowing him to just be on the brink of brilliance but forcing his agrarian roots to prevent him from truly having an opinion or staking a claim in something he truly wants. This is best exemplified in a later chapter after which Sanshiro is introduced to the tactics of a master artist busy away painting the apple of Sanshiro's eye, the elusive young girl who keeps him up at night though his age and social stature prevent him from every establishing. Sanshiro listens to the esteemed painter babble on about the wonder of his work that Sanshiro himself, for "Whether it was in act a skillful job, he could not tell. Incapable of evaluating technique, Sanshiro had only the feeling that technique produced, and even that seemed to him way off the mark owning to his lack of experience but he was not wholly oblivious to the effects of art, and at least to that extent he could be said to be a man of refined tastes." (184)is impressed with however Soseki does not allow him to have a real opinion stating his "inexperienced..." After Sanshiro waits to walk away with Mineko, the girl of his fancy, he can't get anywhere because "he refuses to use cracker mottoes used in novels" (118) then of course, a rickshaw comes out of nowhere to carry away the girl of not so humble backgrounds leaving our favorite farm boy in his typical place, alone with his half-developed thoughts and distant from his unachievable love. I think as men, we've all had the experience of constantly chasing something a part of us knows is impossible to achieve yet the pursuit keeps us going. Sanshiro is the most poignant story of that manner I have ever come across and I can only begin to fathom why it is a perennial Japanese classic from a westerner looking in. It is also evident the important placed on the west in Japanese culture, even so far back as 1909. For anyone who has derived pleasure from a Murakami book I recommend Sanshiro with all my wide-eyed might.
Review by DRFP
16/06/2015
A rather middling and unsatisfying novel by the usually brilliant Soseki. The opening scene on the train is excellent but thereafter the novel fails to evolve, rather like its main character. Sanshiro is an appealing main character but he is constantly held back by his timid and inexperienced nature. Because of Sanshiro's timidity he does not chase the object of his desire, denying us a great store of drama; his inexperience means that he rarely questions the world around him and rather just floats through it all, like the clouds referred to in the story. Admittedly this novel takes place over a short space of time but Soseki's decision not to push his lead forward means that the novel never develops into what it could. Well written but ultimately slightly unsatisfying.
Review by xuebi
16/06/2015
Sanshiro by Natsume Soseki is the tale of a newly-arrived university student named Sanshiro who must find his way amid the busy city and its traffic, academics, and the women that fill Tokyo. As well as commenting on the social and cultural life of turn-of-the-century Tokyo as experienced by the academic and modernised denizens of the city, Sanshiro is also a study of first love and the dichotomy of tradition and modernisation. As Sanshiro experiences life in the city, he must learn to deal with the women he meets and Natsume subtly explores the idealism of first love well.

Sanshiro then is a classic of modern Japanese literature and a unique take on the Bildungsroman, done in the Japanese style. Unlike European coming-of-age stories, Sanshiro is a story of growth without the maturing of the character. This edition has as well an introduction by Haruki Murakami that deals with this and also the effect Sanshiro had on not only Murakami but on Japan.

Thus, this novel is a delightful exploration of youth and idealism standing against maturity and cynicism, the themes of which have delighted Japanese audiences and yet also speak to Western audiences.