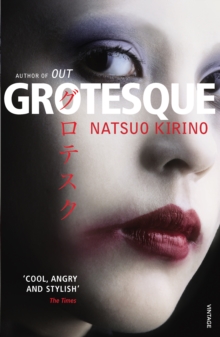 Description
Two prostitutes are murdered in Tokyo. Twenty years previously both women were educated at the same elite school for young ladies, and had seemingly promising futures ahead of them.
But in a world of dark desire and vicious ambition, for both women, prostitution meant power.
Grotesque is a masterful and haunting thriller, a chilling exploration of women's secret lives in modern day Japan.
Information
Format: Paperback
Pages: 480 pages
Publisher: Vintage Publishing
Publication Date: 01/02/2008
Category: Crime & mystery
ISBN: 9780099488934
Free Home Delivery
on all orders
Pick up orders
from local bookshops
Reviews
Showing 1 - 5 of 5 reviews.
Review by Elphaba71
16/06/2015
Ok, I started this book with high hopes having read good reviews, only to be quite disappointed. I gave up on the book at about half way through. It just seemed to be rambling along going nowhere. I didn't particullaly like the narrator, or the other characters.
Review by bibliobeck
16/06/2015
This is the second book I've read by the author and I absolutely loved it. Everything in this book is grotesque, from the classist society and relationships between the characters to each individual who is depicted as grotesque in their own way. Beauty is 'monsterous', as is the desire to work hard and get ahead. The book is obsessed by looks and there are many detailed descriptions here of people's faces, their clothes and the way they present themselves. Everyone's fate in the book seems to be just accepted by the characters in a totally determinist way. No matter how hard they try, ultimately they accept their fate as criminal, prostitute, pimp or murderer in a way that almost negates any free will they might once have had. There is no doubt that the book is harrowing in places, particularly the description of Kazue Sako's descent into madness, but the insight into Japanese culture and society is so incredibly interesting that it's easy to become very quickly immersed in the story. Once again, Kirino has written beautifully and I've already added her third translated book to my wanted list. She really is a truly talented writer who can keep the reader absolutely gripped. I was so disappointed when the book ended that I wanted to immediately read it over again.
Review by ladybug74
16/06/2015
I enjoyed this book, though it seemed to be much longer than it actually was for some reason. I have just started my final internship for college and have a lot going on right now, so that was probably part of the problem at least. I thought the characters were well-developed, though none of them were very likable. I agree with the statement on the back cover that this book is more of a character study than a mystery.
Review by Ayling
16/06/2015
I liked this book up to the last two pages in which I'm not sure I wholly agreed with it ending the way it did. I will have to go back over it and read it again.Grotesque is a vicious attack on Japanese society, the class system and the disparities between men and women, to the point that occasionally towards the end it sounded more like a rant against the world.Kirino magnified the grotesque, the characters were warped and all of them had their fair share of monsterousness. It is hard to like a single character in this, in fact for the majority of the time it is hard not to hate them, to be disgusted with them. The narrator herself is a nasty piece of work. How can anyone be so warped, so bitter and full of hate?Ultimately, Kirino blames our society - consumerism, the need for people to conform to their groups in order to fit in - the superficiality of our pointless, worthless lives.Grotesque isn't so much a crime novel about two prostitutes who have been murdered - but a study of women today, the expectations they are under to achieve and their limitations to what they can achieve. Kirino challenges the typical 'feminist' book that tends to portray 'strong women' instead she portrays a twisted representation of women and survival in a cut throat society. The characters are seemingly unable to look at themselves objectively and see a distorted view of themselves - judging themselves to be superior to their peers through their own delusions. Each perspective in this book, firstly through the first person narrative - then through various diaries of the other characters - contains different perceptions of the same event, lies and truths all distorted in some way or other.I think what Kirino wants us to do is look at ourselves in a different way, to see our own weaknesses and our delusions about who we are and the world we live in.
Review by isabelx
16/06/2015
Set in the aftermath of the murder of two prostitutes, the story is told from the point of view of the older sister of one of the murder victims, who was also a classmate of the other victim at the prestigious Q High School twenty or so years earlier. Although the narrator is not named, which is one of my pet hates in novels, I eventually came round to thinking that it was quite apt that she is always referred to as Yuriko's sister, since that is how she has always thought of herself.The older sister is clearly an unreliable narrator. She is self-interested, self-deceiving and amoral, and extremely inconsistent. For example when introducing her sister's journal into the tale she says, <i>"If you promise not to believe a word of it, I'll let you see what she wrote. But you really must not believe it. It really is a complete fabrication. A number of the Chinese characters she used in the journal were written incorrectly. And then there were places where she left out characters, and others where the characters she wrote were just plain ugly or else really hard to decipher. I've rewritten these parts."</i> So the journal can't be relied on at all. From things her school-friend Mitsuru says when they meet at the trial, it seems that she has also misrepresented her time at Q High School, projecting all her difficulties onto Kazue, while denying that they also applied to herself.The Q school system, which emphasises self-reliance and teaches that if you work hard you will get what you want, also teaches the opposite by allowing its inner circle of rich girls who entered the system at elementary school to dominate all the school clubs and bully the girls who entered at junior high, who in their turn bully and exclude the girls who enter at high school. The ex-pupils we meet, who are now in their late thirties, show that the system doesn't work; Takashi Kijima became Yuriko's pimp in his teens and now runs an escort agency; the girls include the beautiful Yuriko, who has been a prostitute since selling herself to the boys at the Q boy's high school, Kazue, who became bulimic at school in her doomed attempts to fit in with the inner circle, and resentful at her lack of progress in her career, went on to lead a double life working as a call-girl at night, Yuriko's sister, who holds down an ordinary sort of job at the local council, has allowed her maliciousness and hatred of her unnaturally beautiful sister to rule her life, and Mitsuru, who went on to study medicine at the prestigious Toyko University and became a doctor, went on to join a religious cult and spend several several years in prison.A very interesting book, and a good choice for my book club. The only thing I didn't like was the ending.