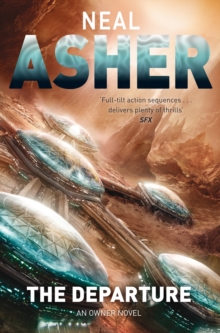 Description
The Departure is the first book in Neal Asher's near-future, science fiction Owner series.The Argus Space Station looks down on a nightmarish Earth. And from this safe distance, the Committee enforces its despotic rule.
There are too many people and too few resources, and they need twelve billion to die before Earth can be stabilized.
So corruption is rife, people starve, and the poor are policed by mechanized overseers and identity-reader guns.
Citizens already fear the brutal Inspectorate with its pain inducers.
But to reach its goals, the Committee will unleash satellite laser weaponry, taking carnage to a new level.
This is the world Alan Saul wakes to, travelling in a crate destined for the Calais incinerator.
How he got there he doesn't know, but he remembers pain and his tormentor's face.
He also has company: Janus, a rogue intelligence inhabiting forbidden hardware in his skull.
As Janus shows Saul an Earth stripped of hope, he resolves to annihilate the Committee and their regime.
Once he's discovered who he was, and killed his interrogator . . .
Information
Format: Paperback
Pages: 512 pages
Publisher: Pan Macmillan
Publication Date: 01/04/2012
Category: Science fiction
ISBN: 9780330457613
Free Home Delivery
on all orders
Pick up orders
from local bookshops
Reviews
Showing 1 - 1 of 1 reviews.
Review by macha
16/06/2015
first of a recent trilogy with a non-Polity setting, very dystopic in outlook, and occasionally reading like a tract. still, an interesting look at a near-future world in which a world government bureaucracy obsessed with the single goal of control uses fear as a weapon, and uses up all Earth's resources maintaining that goal, at which point it concludes all those outside its own inner circle are expendable. Asher goes over the top in describing bureaucratic politics and the elitist perspective, and also in crafting his one-man solution. but it's important to note that his starting point is clearly the world of today, so his reductio is not entirely ad absurdum. also, the point of view of a human in the process of becoming a cyborg, trying in a somewhat desultory way to retain the humanity he's losing, is kind of fascinating. but as his own power increases exponentially, it's intriguing to imagine what he will himself become as he heads into space with the books that follow (and the word he eventually chooses here to describe his place in the hierarchy is more than a bit chilling).