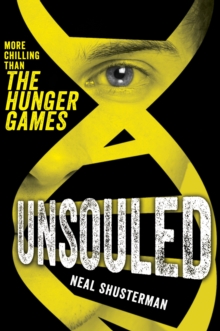 Description
In the next part of Neal Shusterman's gripping and thought-provoking futuristic thriller, Connor, Lev and Risa continue to uncover shocking secrets about the process of 'Unwinding' and the company, Proactive Citizenry, which created Cam, a teen made completely from parts taken from 'unwound' teens.
There are plans to mass produce rewound teens like Cam for military purposes, and below the surface of that potential horror lies a sinister layer of intrigue...
Proactive Citizenry has been suppressing technology that could make unwinding completely unnecessary.
Will Connor, Lev and Risa ever be able to break free from the fear of Unwinding?
Information
Format: Paperback
Pages: 416 pages
Publisher: Simon & Schuster Ltd
Publication Date: 07/11/2013
Category: Fantasy
ISBN: 9781471118104
Free Home Delivery
on all orders
Pick up orders
from local bookshops
Reviews
Showing 1 - 3 of 3 reviews.
Review by NineLarks
16/06/2015
This was a solid book. It was a necessary transitional book that made me want to scream and tear out my hair at the end because NOTHING WAS RESOLVED. <br/><br/>We follow book two Unwholly relatively closely in this book. As usual, Shusterman does a great job juggling the different perspectives of all the characters. It transitions the story well without any unnaturalness. <br/><br/>This books was basically trying to converge all the storylines. Connor and Cam meet. We reunite with Risa and Sonia. New characters relevant to the story are introduced. Starkley is emerging as a potentially big bad underling. Eh, and I guess Lev kinda gets his own storyline again. <br/><br/>But at the end, NOTHING HAPPENED. It's like I was waiting for action or a climax and all I got was the revelation that this world has 3D printers. Yay. <br/>Okay, yeah, stuff happened. But it was a character development, really. (Which I am a fan of, yes, but balanced with action! C'mon!) Bah. <br/><br/>The ending made me narrow my eyes a little. Okayyyy. Interesting way to take the book to introduce a real life and current technology: 3D printers. I'm not sure if it's a plus or minus yet because it seems a little too easy. It just irks me a little bit because this is supposed to be a "what-if", dystopian world that has traveled in a different direction. It's clearly sci-fi because even though it boasts "science" with the unwinding, the retaining of memories from different body parts is scientifically debunked already. So I'm just a little startled to see a fictional world collide with our current and real world. I will withhold judgement about this strange collide until the next book though. <br/><br/>I am unwholly displeased that I have to wait for the next book for some lovely action. <br/>A solid 3 stars. Definitely better than the second book, but not as great as the first. Looking forward to the next one in this series.<br/>Recommended for those reading the series. Don't start here.
Review by IsaboeOfLumatere
16/06/2015
Ah, Shusterman. This COULD have been 5 stars, but alas. You messed it up. Congratulations. <spoiler>First problem: love triangle. Seriously? I just wanna say that I did NOT sign up for this. Second, Grace does not feel low-cortical at all. Other than the fact that people describe her as vague, she's the smartest friggin' person in the whole group! And it's not even like an autistic savant or anything. She's just smart, so don't make her low-cortical!</spoiler> But despite those two problems, you still get 4 stars. Why? Because I can't imagine rating this trilogy anything lower than 4 stars. Duh. But also, the ending. <spoiler>Proactive Citizenry is so smart. Funding both ads promoting unwinding of teens AND ads against unwinding of teens but for unwinding of adults? Goshdarn it, PC. Also, I honestly didn't know what Sonia and Janson's device would be, but that was smart.</spoiler> I never said Shusterman was bad at plot twists!<br/><br/>Also, Bach étude for piano? Really? I don't think so.
Review by mermaidatheart
27/01/2016
This was my favorite so far in the series. Maybe it's a little wacky to give this five stars, but...I couldn't stop reading it, was sad when it was over, wouldn't mind reading it again, and it made me think. If that's not worth five stars I don't know what is.