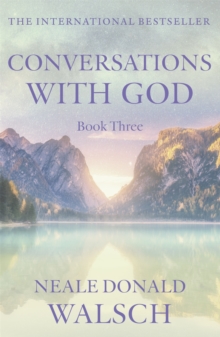 Conversations with God : An Uncommon Dialogue Bk. 3
Paperback
Description
When Neale Donald Walsch was experiencing a low point in his life, he decided to write a letter to God. What he did not expect was a response and the result was Conversations with God Book 1. Book 3 takes us even further in our questioning and search for answers, dealing with the universal truths of the highest order, and the challenges and opportunities of the soul. This incredible series contains answers that will change you, your life, and the way you view other beings.
Information
Format: Paperback
Pages: 416 pages
Publisher: Hodder & Stoughton General Division
Publication Date: 01/07/1999
Category: Nature & existence of God
ISBN: 9780340765456
Free Home Delivery
on all orders
Pick up orders
from local bookshops
Reviews
Showing 1 - 1 of 1 reviews.
Review by helenaharper
16/06/2015
Even before I had finished the previous two books in this series, I had already read the part in this book about highly evolved beings (HEBs) and life on other planets, because it answered a question I had repeatedly asked myself ever since I was a child i.e. was there life on other planets? I had always thought that there must be - the universe is just too huge for us to be the only ones 'out here' - and when this book confirmed that, how could I not read on? Many of these other inhabited planets have highly evolved civilisations and I found the descriptions of these societies absolutely mesmerising! HEBs communicate absolutely truthfully and telepathically (in fact, you can tell how evolved a society is by its dependance or otherwise on words for communication); there is no concept of ownership or loss; they share everything they have; and their children set their own curriculum at school. A key part of these societies is observing fully and acknowledging the truth of their observations, something we don't do. We see what is happening, but then we choose to ignore or deny it, because profits would suffer etc. Although I was fascinated by what I was reading, I was also somewhat discouraged to see just how far we are from realising this kind of society on Earth (compared to the HEBs, I felt like we were ants crawling around on the ground, whilst they soared like eagles above us). But by the end, the overriding emotion was one of inspiration, because I had been shown the possibility of a different, far more fulfilling existence, where everyone's experience of life can be a fair and joyful one.The book also discusses/revisits topics such as death, psychic power, reincarnation, the nature and location of the soul, marriage, and the lack of chance or accident in everyday life (i.e. nothing happens by chance, it is all intentional, even if we can't see what the intention is). You can read this book in isolation, but I would recommend you read Book 1 and Book 2 first, because you will get more out of it if you do. All three books are remarkable and I applaud Neale Donald Walsch for bravely challenging accepted theological doctrine and, thereby, releasing people from the fear of 'sin' and from being judged by a vengeful God. It's an uplifting and liberating message!