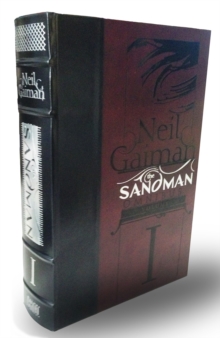 The Sandman Omnibus Vol. 1
Hardback
Description
The Sandman is Neil Gaiman's universally lauded masterwork followingMorpheus, Lord of the Dreaming - a vast hallucinatory landscape housingall the dreams of any and everyone who's ever existed.
Regardless of cultures orhistorical eras, all dreamers visit Morpheus' realm - be they gods,demons, muses, mythical creatures, or simply humans who teach Morpheus somesurprising lessons.
Upon his escape from an embarrassing captivity at the handsof a mere mortal, Morpheus finds himself at a crossroads, forced to deal withthe enormous changes within both himself and his realm.
His journey to find hisplace in a world that's drastically changed takes him through mythical worlds toretrieve his ancient heirlooms, the back roads of America for a twisted reunion,and even Hell itself, to receive the dubious honor of picking the next Devil. But, he'll learn his greatest lessons at the hands of his own family, theEndless, who - like him - are walking embodiments of the mostinfluential aspects of existence. This massive, hardcover tome - over 1,000 pages - collects thefirst 37 issues of Neil Gaiman's groundbreaking series!
Information
Format:Hardback
Pages:1040 pages
Publisher:DC Comics
Publication Date:02/09/2013
Category:
ISBN:9781401241889