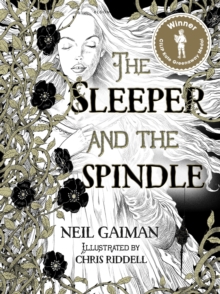 The Sleeper and the Spindle : Winner of the Cilip Kate Greenaway Medal 2016
Hardback
Description
A thrillingly reimagined fairy tale from the truly magical combination of author Neil Gaiman and illustrator Chris Riddell - weaving together a sort-of Snow White and an almost Sleeping Beauty with a thread of dark magic, which will hold readers spellbound from start to finish.
On the eve of her wedding, a young queen sets out to rescue a princess from an enchantment.
She casts aside her fine wedding clothes, takes her chain mail and her sword and follows her brave dwarf retainers into the tunnels under the mountain towards the sleeping kingdom.
This queen will decide her own future - and the princess who needs rescuing is not quite what she seems.
Twisting together the familiar and the new, this perfectly delicious, captivating and darkly funny tale shows its creators at the peak of their talents. Lavishly produced, packed with glorious Chris Riddell illustrations enhanced with metallic ink, this is a spectacular and magical gift.
Shortlisted for The CILIP Kate Greenaway Medal 2016
Information
Format: Hardback
Pages: 72 pages, illustrations
Publisher: Bloomsbury Publishing PLC
Publication Date: 23/10/2014
Category: Classic
ISBN: 9781408859643
Free Home Delivery
on all orders
Pick up orders
from local bookshops
Reviews
Showing 1 - 5 of 8 reviews.
Previous | Next
Review by Goldengrove
16/06/2015
You could say that Neil Gaiman has twisted the story of the Sleeping Beauty and wrested this dark little tale out of it. But that's not quite the truth. It's more as if, with the expert assistance of Chris Riddell, he has given it a good shake and caught what came out. The Sleeper and The Spindle is surprising - Gaiman has managed to look through the cobwebs that gather on well-known folk tales and find the real story. In fairy tales, witches delude themselves that they are beautiful, and youth is innocent and lovely, but look deeper, and it's all a bit more complicated. It's not for me to tell you what he saw, but as usual, Gaiman has found the 'deeper magic', and it's curious and very satisfying.
Review by shanaqui
16/06/2015
The Sleeper and the Spindle is a gorgeous book: the illustrations are all in black and gold, and there are some really beautiful pages. Riddell was just the right illustrator to bring the story to life, I think. The copy I have is really great: the dust cover is transparent, with the pattern of roses on it; the cover of the book itself is the sleeping woman.

If you know Neil Gaiman's work, the rest of this is perhaps not surprising. It takes both Snow White and Sleeping Beauty, and puts them in a unified world that is a little darker, a little different, a little more mature than the sanitised stories we see so much of now. This ain't Disney. It's still a fairytale, but it's something different, too -- something a little bit creepy, even.

The LGBT representation that I have seen this book being lauded for is... not exactly. There's one kiss which appears to be so if you see the illustration on its own -- and it's a gorgeous illustration -- but it doesn't mean what it seems to mean, in context. Which is a little bit of a cop-out, really, since there's excitement around this book on the back of it.

But really, romance isn't at the heart of this fairytale. A search for autonomy is really what's going on; a shrugging away from the familiar fairytale 'happy ever after'.
Review by tapestry100
16/06/2015
Who doesn't love a new, delicious Neil Gaiman fairy tale retelling? Add to that story new and equally delicious Chris Riddell illustrations and you have the recipe for an almost instant classic, and neither disappoint in this fairy tale remix. Leave it to Gaiman to take one fairy tale that we're familiar with (in this case, a Snow White a few steps away from any version we've seen before) and mix it with another (a Sleeping Beauty we only think we know), to come up with something that we couldn't have seen coming.On the eve of her wedding, a trio of dwarfs tell their young queen tales they've heard in their travels of an enchanted princess who has slept for seventy or more years in a neighboring kingdom. What alarms the dwarfs is that the sleeping enchantment seems to be growing, reaching farther and farther out from the enchanted kingdom each day. Taking it upon herself to rescue not only her kingdom from the potential sleeping enchantment but to also free the young princess herself, the queen postpones her wedding, dons her armor and sword, and sets forth with her dwarfs in search of the sleeping princess.While we the reader think we know where the story is going, Gaiman takes our hand and leads us down an entirely different road, creating such a magical twist in the story that he creates his own unique and powerful fairy tale. Riddell's illustrations are fantastic, accenting the story perfectly, while being perfectly accented in golden metallic ink. In fact, this is probably one of the more beautifully presented volumes that I've picked up in some time, from the velum, transparent cover right down to the font choice. Clearly, there was significant effort put into giving Gaiman's story and Riddell's art the appropriate packaging.While not available yet in the US, I'd recommend picking up this volume if you're a fan of Gaiman, Riddell, fairy tales, or any combination of the above. Quite frankly, I don't know that any US edition will match the beauty of this UK edition. I know that generally Riddell's illustrations only accompany Gaiman's UK editions, and while I'm sure the US illustrator would do just as admirable a job (I would imagine Skottie Young, as has been the case lately), I'd hate for anyone to miss out on this particular edition, just in case. Do yourself a favor; it's completely worth the money to track down a copy for yourself.
Review by ColeReadsBooks
16/06/2015
A beautiful re-imagining of Sleeping Beauty by one of the UK's most popular authors!Synopsis:The night before her wedding, a young Queen learns of a mysterious enchantment befalling the neighbouring kingdom. Told by her dwarf friends that the people of the kingdom are in grave danger, she sets aside her wedding plans in order to help the people and save the princess. Battling the thorny forest, the Queen climbs the tower to awaken the beautiful princess, but everything is not as it seems, and this is definitely not the Sleeping Beauty you think you know!Review:I absolutely love Neil Gaiman's work and this is by no means an exception. Growing up Sleeping Beauty was my favourite fairy tale and the opportunity to read an adaptation of it by an author like Neil Gaiman was a chance I absolutely could not miss. It is an absolutely beautiful book, and the illustrations are haunting and perfect, they really add to the eerie Gothic tone of the story. I don't want to say too much about the actual story, except that it follows a similar vein as the traditional Sleeping Beauty tale, diverging on some points that will keep you guessing and ultimately add up to a very unique version of such a well known story. This is the second of Gaiman's re-workings that I have read, and I'll be honest and say I much prefer this to his Hansel and Gretel adaptation. The story, like most of Gaiman's work is well written, and leaves enough of the plot a mystery to keep you guessing to the end. Gaiman definitely puts his own spin on it, you won't be reading the same thing that's been done time and time again. I really enjoyed this one, I loved the dwarfs and the almost lyrical way that it's written. It's a sweet, wonderful little book that is beautifully packaged and is a definite for any fairy tale lover's collection.
Review by bookworm12
16/06/2015
Gaiman's retelling of the classic Snow White and Sleeping Beauty fairy tales is what any Gaiman fan would expect. It defies convention and normal expectations. A young woman leaves her castle on the day of her wedding to go rescue someone in need. Her strength and courage, along with a little help from her friends, takes her far. The UK edition is just breathtaking. There are illustrations from Chris Riddell that absolutely make the book. There is a lovely vellum dust jacket and hints of gold throughout the black and white drawings. The only disappointment is that the story is so brief. It felt like it was just beginning. We only saw the tip of the iceberg and I was left wondering what happened next.